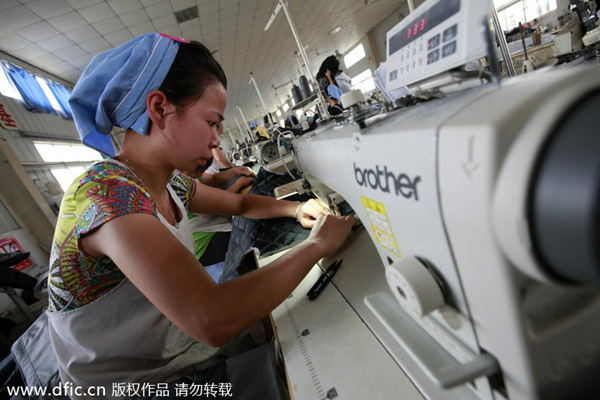 A woman makes clothing for trading in a garment factory in Huaibei city, East China's Anhui province, July 1, 2014. [Photo/IC]
SINGAPORE - China should expect lackluster external demand to continue for years to come as the world's major economies may be entering a period of "great moderation," a senior economist said on Thursday.
Speaking at the Future China Global Forum in Singapore, Hu Yifan, chief economist at Hong Kong-based securities firm Haitong International, said that it may be a period of time comparable to the great moderation seen between 1985 and 1997.
"That period of time is marked by mainly medium-speed growth for the major economies, coupled with low inflation rate and volatility," she said in a panel discussion.
Therefore, the contribution of net export to China's economic growth will be zero or even in the negative territory, she added.
The countries had also been carrying out structural reforms during that period of time while using cautious policies to ensure that the economic environment are normal, just like what China is doing at present, she said.
Other economists at the panel said that they expect lackluster contribution from external exports to China's economic growth in the coming years, too.
Shen Minggao, head of China research at Citigroup Global Markets Asia Limited, said that the rebound of external demand is likely to lag behind the rebound of major economies such as the United States, partly due to the re-industrialization or de- globalization in these economies.
Shen said that she expected the current account surplus of China to be within the range of 2 to 3 percent in the second half of this year.
Li Wei, an economist with Standard Chartered Bank (China) Limited, said that the bonus from China's reform efforts will not be there within the next two to three years but that China would be able to handle the economic challenges relying on internal demand.
Consumption is expected to grow by some 10 percent in nominal terms or 8 percent in real terms, while investment growth will still be at 13 percent despite a significant slowdown. This would give rise to annual growths between 7 percent and 7.5 percent, he said.
"I don't think that we should expect the Chinese growth to slow down further because of the reforms. The growth used to be some 15 percent in the second quarter of 2007, while now it's some 7 percent. I think it is nearing the end of the slowdown and stabilizing, because the growth rate is in line with the underlying potential," he said.
Li said he expects the Chinese economy to grow by 7 percent in 2014, while Shen and Hu respectively said they expected growths of 7.1 percent and 7.5 percent.