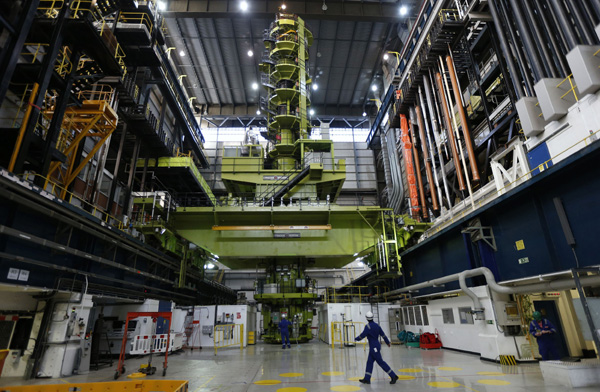 An employee walks through the charge hall inside EDF Energy's Hinkley Point B nuclear power station in Bridgwater, south-west England. Experts said the Hinkley Point C project, in which two Chinese nuclear giants hold a minor stake, will pave the way for Chinese companies eventually owning a nuclear project in the UK. [Provided to China Daily]
Hinkley Point approval could open doors for more Chinese companies
The United Kingdom's first new nuclear plant in two decades got the final go-ahead from the European Union after a year of twists and turns, a move that will help Chinese investors tap the UK nuclear market.
Experts said the Hinkley Point C project, in which two Chinese nuclear giants hold a minor stake, will pave the way for Chinese companies' eventually owning a nuclear project in the UK.
"It is a landmark deal for China as well, as the experience in a developed country will help build up a good reputation in the global market," a source from China National Nuclear Corp, one of the Chinese investors in the project, said.
Zhang Luqing, a nuclear expert and power project manager with close to a half-century of experience, said the UK is the likeliest place to locate a nuclear project entirely owned by Chinese companies.
"The project will revive the UK's nuclear power market, which has gained pace after the final approval, and at the same time, it increases the chances and confidence of the Chinese nuclear firms to build, own and operate nuclear power plants in the UK," he said.
The European Commission said the $26 billion Hinkley Point nuclear power plant was in compliance with EU rules after Britain agreed to raise the proposed fee for the state guarantee of debt to construct the plant, lowering the subsidy cost by more than 1 billion pounds, Xinhua News Agency reported.
The commission said the previous proposed fee was too low for a project with such high risks. Commission Vice-President Joaquin Almunia, in charge of competition policy, was quoted as saying that the UK's support of the Hinkley Point C project "has been significantly modified", which limits "any distortions of competition in the single market".
The project in southwest England, which is owned by France's EDF Energy, along with minority partners China General Nuclear Power Corp and China National Nuclear Corp, was delayed in December by an EU investigation into whether the UK government had offered financial support for the project, which may be against EU rules.
The Hinkley Point C power station with its two reactors will produce in total 3.3 gigawatts of electricity - the largest output by a single plant in Britain and representing 7 percent of the country's electricity generation.
Britain plans to have the site's first reactor churning out power by 2023.
John Lurie, a partner of the Dorsey & Whitney law firm's London office, said the approval this week is good news for those in the nuclear power market. "The European Commission's approval of plans for the Hinkley Point project signals increasing support for nuclear power in the UK," he said.