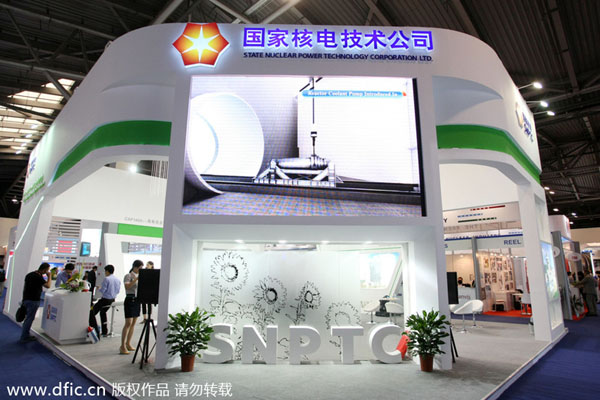 People visit the stand of State Nuclear Power Technology Co (SNPTC) during the 10th China International Exhibition on Nuclear Power Industry (CIENPI) in Shanghai, May 23,  2013. [Photo/IC]
BEIJING - China's State Nuclear Power Technology Corp (SNPTC) is seeking a merger with China Power Investment Corp (CPIC), an SNPTC spokesman said Thursday.
Guo Hongbo, the SNPTC spokesman, said the plan for the merger has been submitted to the State-owned Assets Supervision and Administration of the State Council for approval.
In an interview with Xinhua, Guo acknowledged that the SNPTC will be unable to complete China's first nuclear power reactors using AP1000 technology from American supplier Westinghouse Electric on time, saying the project may now run two years behind schedule.
The SNPTC was established in May 2007 to import and assimilate AP1000 and to develop China's own CAP1400 technology. In 2009, the company began work on four AP1000 reactors in east China, at Sanmen in Zhejiang province and Haiyang in Shandong province.
The No 1 unit at Sanmen is now two years behind schedule, Guo said, and unlikely to be operational before the end of 2015.
Guo refused to relate the planned merger to the delay and rejected speculation that the setback is due to the US side's refusal to transfer key technology.
The slow progress, Guo said, is due to the Chinese government's demands for a safety reassessment following the Fukushima nuclear crisis in Japan in 2011, and design delays by the Westinghouse team. Some problems related to the main shielding pump also need to be solved by US subcontract supplier.
"Safety and quality must come first," Guo said. "We should never trade them just to meet a deadline."
After Fukushima, safety was reinforced at all China's nuclear plants.
At the end of last year, nuclear power accounted for only 2.11 percent of China's total power consumption, compared with 80.4 percent for thermal power and 15 percent for hydropower.
To buoy a slowing economy, China's policymakers are considering quickening review and approval for nuclear power projects in eastern coastal regions, and adopting top international standards to ensure safety.