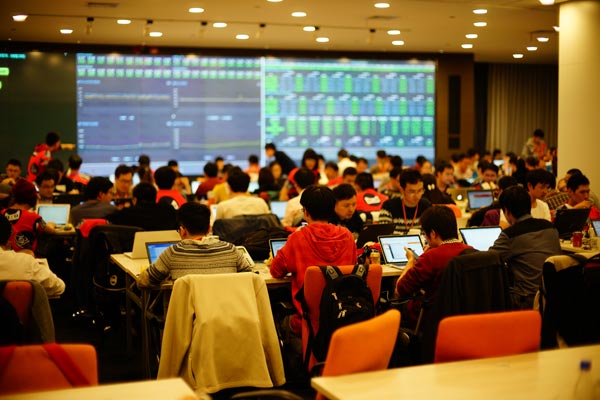 Workers at Hangzhou-based China's Alibaba Group Holding Ltd handle orders on the e-commerce giant's "11/11" online sales event on Tuesday, Nov 11. Shoppers placed a record number of orders on Alibaba's platforms within the first 40 minutes and sales exceeded 10 billion yuan ($1.6 billion). [Photo provided to chinadaily.com.cn]
China's Alibaba Group Holding Ltd broke a record when sales exceeded 10 billion yuan ($1.6 billion)within 40 minutes after the start of its "11/11"' online shopping spree on Tuesday.
The Hangzhou-based e-commerce giant upgraded this year's event into a global online shopping carnival by helping Chinese shoppers purchase overseas products and overseas buyers acquire goods from China.
Shoppers from 175 countries placed orders on Alibaba's platforms within the first 40 minutes of the largest online shopping event in China - and maybe globally - which falls on Nov 11.
Created on November 11, 2009, by Alibaba, 11/11, or "singles' day". The event was originally launched to tempt single people without partners to console themselves with some retail therapy, spurred on by massive discounts from retailers.
Last year, Alibaba, which had a record breaking IPO in the US in September, rang up total sales of more than 35 billion yuan with the event's 24 hours. About 13.7 million shoppers visited Alibaba's business-to-customer platform Tmall in the first minute of last year's Nov 11 shopping festival. Transactions in the first minute totaled 117 million yuan.
Alibaba refused to reveal the sales target for this year's event, but analysts said that the number is expected to be much bigger than last year because shoppers from more countries are involved.
"As China's e-commerce market becomes more matured, online platforms can't rely on Chinese consumers spending more and more each year on the same products. They need to expand their product range, which will increase the average purchase value in China, and they need to expand their customer base," said Neil Flynn, head equity analyst at Shanghai-based Chineseinvestors.com, a leading financial analysis firm of US-listed Chinese companies.
Expecting a strong performance from its Nov 11 shopping festival, Alibaba's share price on the New York Stock Exchange jumped from $100 on Nov 4 to $114.5 on Nov 7. In terms of market value, Alibaba is the world's seventh- largest company, overtaking General Electric Co and Wal-Mart, trailing only Microsoft, Apple and Google of the tech giants.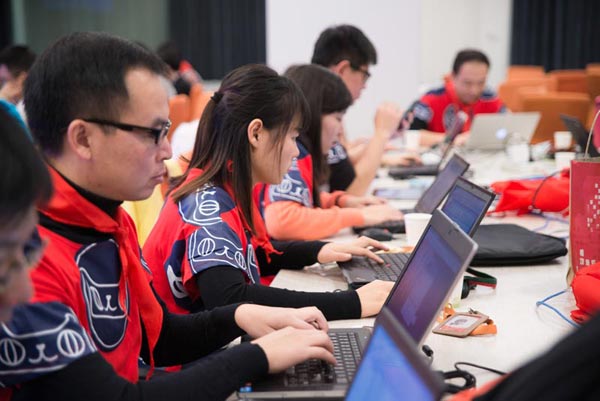 Alibaba staffers process orders for the e-commerce giant's "11/11" online shopping spree in Hangzhou on Tuesday. Within the first 40 minutes of the largest one-day online shopping event in China – and maybe the world – sales broke a record when they exceeded 10 billion yuan ($1.6 billion). [Photo provided to chinadaily.com.cn]