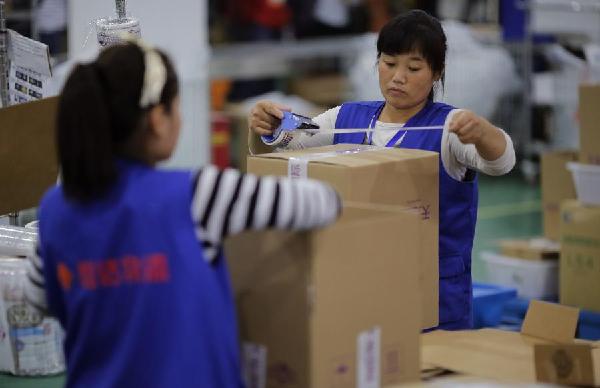 Employees work at an Alibaba Group warehouse on the outskirts of Hangzhou, Zhejiang province Oct 30, 2014. [Photo / Agencies]
Alibaba and its founder Jack Ma are set to continue their investment spree, said analysts, as the Internet behemoth revealed its "well-loaded" cash position in its first quarterly report as a publicly listed company on Tuesday.
Alibaba held a total of 109.9 billion yuan ($17.97 billion) cash, cash equivalents and short-term investments at the end of September after its initial public offering, up from 43.6 billion yuan six months earlier, said the report.
"Alibaba will remain active in mergers and acquisitions with the target to add new users, expand its products and services, and link up with international market," said Cao Junbo, chief analyst at iResearch Consulting Group, on Wednesday.
The ecommerce company and its founder Jack Ma have invested aggressively over the past one year and a half in areas including media, social network, online-to-offline and location-based services, financials, logistics, entertainment, healthcare and consumer products.
Investment in Weibo, China's version of Twitter, and video websites can add traffic to Alibaba, while acquisitions in medicine- and motor-related companies and service sector enable the company to diversify its offers, said Cao Junbo to chinadaily.com.cn.
"The fundamental strength of our business gives us the confidence to invest in new initiatives," said Alibaba's chief financial officer Maggie Wu in the report, announcing the company's revenue surged 54 percent to $2.74 billion in the quarter ended in September.
"We already saw synergy in its recent mergers and acquisitions, and cross-industry integrations cradle huge innovation potentials," said Cao.
However, compared with Tencent and Baidu, Alibaba is still relatively weak in segments including travel, gaming, mobile app distribution and certain mobile vertical segments, said Alicia Yap, head of China internet research at Barclays, to South China Morning Post.
As 2014 is on course to be a year filled with shopping spree for Alibaba and Jack Ma, let's take a look at the major sectors that have attracted their money.