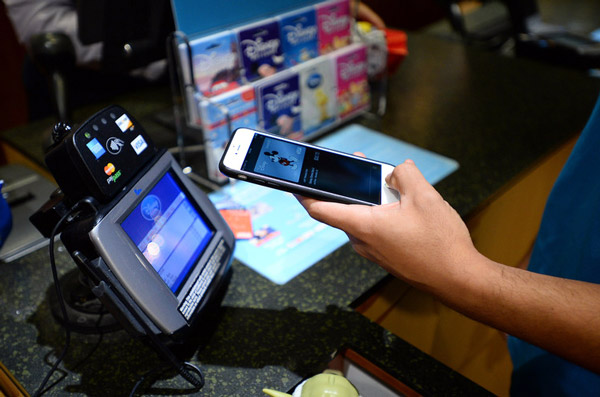 A customer makes a purchase by using Apple Pay at a Disney Store on Oct 20, 2014 in Glendale, USA. [Photo/Agencies]
It seems that the potential match between Apple's "crazy" investment and Alibaba's go-global strategy has ignited people's enthusiasm about China's mobile payment sector.
Jack Ma, the new number one on Forbers' China Rich List, expressed an interest and hinted with a meaningful smile during a Q&A panel at the WSJD Live tech conference on Monday in California.
During the conference, Tim Cook's statement - "We're going to talk about getting married later this week" - have been understood as a signal that the two firms will plan cooperation on the newly launched Apple Pay.
Reasonable possibilities about the two giants' marriage exist though they have not yet to confirm the rumors as of Oct 29.
Advisory firm International Data Corporation's analysis shows that the cooperation will benefit both enterprises' development strategy.
"Cross-border e-commerce will play one of the key roles in Alibaba's development plans, and consumers' payment experience has always influenced the entire process of online shopping. It turns out that finding a reliable and influential partner to fulfill its global dream to expand is a must,"said IDC.
According to Yan Zhanmeng, senior market analyst at IDC China, the reason why Alibaba has formed a partnership with domestic handset maker Meizu is because the tech giant is keen to develop a complete eco-system. It needs more mobile terminals to carry and provide services on the Yun OS system, a Linux distribution designed by Alibaba for smartphones based on the Android Open Source Project.
If Alibaba is successful in forging a relationship with Apple with its Apple Pay's expansion in Chinese mainland, it will inspire the country's whole mobile payment supply chain, including Touch ID services providers, mobile payment platforms, logistics systems and merchants.
For Apple, mobile payment is a new area. The large group of iPhone users in China has become one of the top markets for Apple's future development. During the latest Apple Worldwide Developers Conference, Tim Cook mentioned the Chinese market in the beginning of his keynote speech.
"The discussion between two sides may not have much impact on the nation's mobile payment sector in a short term,"said IDC. But in the long term, it will expand Alibaba's offline high-end user market, especially Apple's customers in the Chinese mainland, according to IDC. Meanwhile, with the help of Alibaba, Apple will develop a short cut to enter China's mobile payment sector.
In terms of the industry, it means a new model will be established, which will be a combination between an Internet firm and a terminal company. And it will help the model innovation process of the entire industry.
"Such trans-border cooperation will be picked apart and analyzed and could be reproduced in other enterprises,"IDC added.