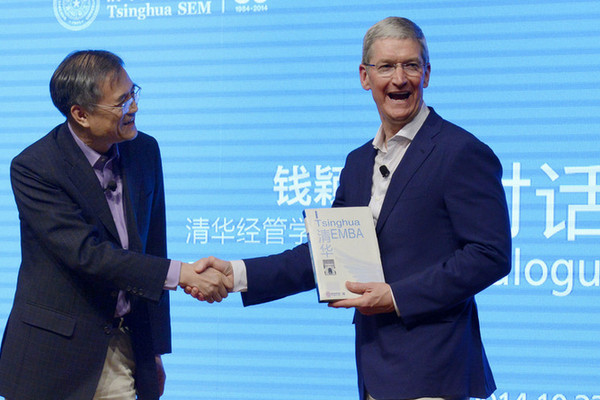 Tim Cook, right, CEO of Apple Inc, shows a gift as he shakes hands with Qian Ying, left, dean of the School of Economics and Management (SEM) at a dialogue during the Tsinghua Management Global Forum at Tsinghua University in Beijing, China, 23 October 2014. [Photo / IC]
Apple Inc Chief Executive Officer Tim Cook said he hopes to adapt all of Apple's developments to work for the Chinese market, which he describes as a "key market" for the tech giant.
Cook made the remark before ending his four-day China visit, which started on Tuesday.
Apple announced its latest models of the iPhone on Sept 9. Initial 24-hour pre-orders surpassed 4 million, far beyond the company's expectations.
China, however, had a delayed release while waiting for the Ministry of Industry and Information Technology to issue a network access license to the new iPhone on Sept 30.
China United Network Communications Group Co Ltd, one of the nation's three leading telecom operators, said that its online pre-orders exceeded 600,000 two hours after it opened the service. The iPhone 6 and iPhone 6 Plus hit the Chinese mainland market on Oct 17.
Cook did not disclose the latest sales of these models but said he was "really happy with how things were going".
Apple's third-quarter earnings decreased in the region comprising the Chinese mainland, Hong Kong, Taiwan and Macao, which was attributed to the delayed launch of the iPhone 6 in China and insufficient inventory. Analysts expect a dramatic rebound in the current quarter, driven by huge demand for a "bigger modern smartphone", as Cook describes it.
Cook's ambition, however, does not rest on the iPhone. He has been advocating Apple Pay, a mobile payment service, and Apple Watch long before they will reach the China market.
"We want to bring Apple Pay to China," he said. "I'm convinced there will be enough people that want to use it. It's going to be successful."
He said he wants to understand the necessary steps to bring Apple Pay to China before he asks local networks, banks and merchants to work together to make it happen.
Apple's market share in China was 16 percent in the first five months of the year, compared with Samsung Electronics Co's 23 percent and Xiaomi Corp's 21 percent, according to Kantar Worldpanel ComTech.
High-end iPhones, however, may imply customers are from the country's growing middle class, who are most likely to become users of Apple Pay and Apple Watch.
"China is a really key market for us," said Cook. "Everything we do, we are going to work it here. Apple Pay is on the top of the list."
Cook said prospects for Apple Watch are "enormous" because it is so rich with possibilities that even people from Apple who have been conceptualizing it for three years have not thought of all the possibilities.
"We are going to wonder how we ever lived without it," said Cook.
"That's the real test of a great product: you wonder how you lived without it. And I think that's going to happen to the Apple Watch."