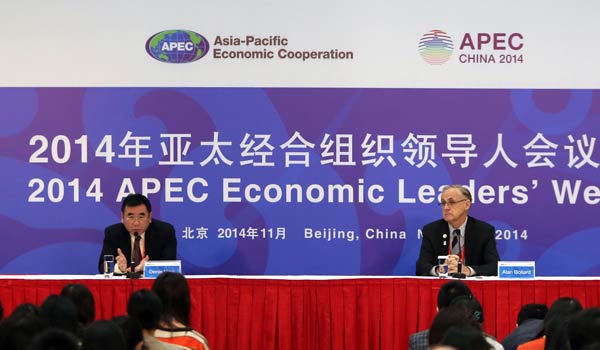 Senior representatives from APEC, Director of the APEC Policy Support Unit Denis Hew (L) and Executive Director of the APEC Secretariat Alan Bollard (R), the world's largest regional economic grouping, offer perspective on the 2014 Economic Leader's Week agenda and key actions on the table at a news briefing in Beijing on Nov 6, 2014. [Photo / Xinhua]
Services sector is an important potential engine for growth in the Asia-Pacific, said Dr Denis Hew, Director of the APEC Policy Support Unit, during a news briefing at the APEC International Media Center in Beijing on Thursday.
The latest APEC Economic Trends Analysis Report in which key economic trends and outlook are discussed was released at the event.
As APEC leaders and ministers gather this week in Beijing to develop APEC's agenda and initiatives, bolstering the region's growth will be a key issue on the table. GDP among APEC member economies in the region grew only 3.9 percent in the first half of this year, down from the 4.3 growth rate seen in the second half of 2013.
According to the report, services sector accounts for 70 percent of APEC's output, 46 percent of the region's employment is in services sector.
"We can not only depend on export for growth in this region…there are a lot of discussions on trying to move up the global value chain, and you find that services sectors is a very important component. Boosting the region's services sector will play an important role in boosting the weak domestic demand," said Dr Hew.
"There is more pronounced interaction between services and other sectors in the economy with manufacturers increasingly using services to differentiate their products and to improve production efficiency," added Dr Hew.
Of the three main sectors of the APEC economy—agriculture, industry and services—services recorded the highest average annual growth rate between 1989 and 2009. During this period, APEC output grew by 83 percent, of which 60 percentage points can be attributed to the expanding services sector, the report found.
According to the report, APEC can play an important role in fostering the competitiveness of the services sector by promoting innovation. Dr Hew said that most services now are in traditional areas such as wholesale services, retail services and hotel industries and so on. Services in high-tech industries and knowledge based industries still lay in early stage.
"There are a lot to be done by policy makers to see how much more of knowledge based services can be promoted," said Dr Hew. In terms of boosting service sectors, the report said that APEC can reform the IPR system by promoting services innovation.
"APEC has a group of experts that provide the suitable platform to look at this matter. Also in promoting a productive services sector, there's a need to see if we can boost the supply of high-skill workers and that links to people-to-people connectivity," added Dr Hew.
"Some of these issues will be addressed this week by leaders through a new Blueprint for Connectivity currently being considered," said Dr Alan Bollard, Executive Director of the APEC Secretariat.
"Increasing people-to-people connectivity is high on our agenda, particularly facilitating the flow of labor and students across borders as well as ensuring skills and knowledge exchange," said Dr Bollard.