Commerce official says China's trade in services will grow by a 'very satisfactory' 10% this year, to $450b
China's trade in services will grow at least 10 percent this year to $450 billion, with Hong Kong continuing to pay a key role in that growth, a top commerce official said on Tuesday.
Speaking at the 16th Beijing-Hong Kong Economic Cooperation Symposium, Lu Jijian, deputy director-general of the Department of Trade in Services and Commercial Services at the Ministry of Commerce, said that goods trade, in contrast, is likely to expand by 6 or 7 percent this year.
He called the 10 percent growth "very satisfactory compared with developed economies in the context of slow economic recovery globally", adding that the expansion of China's services industry will not only lead the country's economic growth in future, but also improve the quality of GDP as it restructures its economic growth model amid the global slowdown.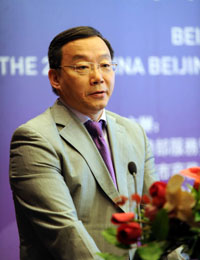 Lu Jijian, Deputy director-general of the Department of Trade in Services and Commercial Services at the Ministry of Commerce 
Organizers of the symposium, held from Monday to Tuesday in Hong Kong, reported that a record 35 agreements worth $10.1 billion, were signed between the two cities, ranging from infrastructure construction such as a metro line in Beijing, to deals in cultural and creative park development.
Hong Kong Trade Development Council Executive Director Fred Lam said trade in services "has become the new engine for global economic growth", having been less affected than other sectors by the global economic slowdown, which continues to be affected by sluggish international demand, the eurozone debt crisis and slower growth in emerging markets.
Lu added: "China's trade in services has maintained steady growth and development despite rising protectionism globally."
According to Ministry of Commerce figures, trade in services in the Chinese mainland was worth $419.1 billion in 2011, up 15.6 percent from the year before, making it the world's fourth-largest market.
Hong Kong remained the mainland's biggest services trade partner, accounting for 26.8 percent of its business.
The mainland's services exports to Hong Kong increased by 23.5 percent year-on-year to $73.34 billion, while its imports of services rose by 15.1 percent to $38.87 billion, the ministry figures show.
"However, the services sector contributed just 43 percent to China's GDP growth in 2011, lower than that in developed economies, which generally accounts for around 50 or 60 percent.
"In addition, the quality of China's trade in services is not very good," Lu added.
He attributed the underdevelopment of the sector to the country's heavy reliance on manufacturing and processing in recent decades.
"It takes time for the public to realize the importance of an emerging sector. And regulations and policies in the sector still need to be improved," Lu said.
He added that a comprehensive guideline for the sector, the 12th Five-Year Plan (2011-15) on Services Industries, is now due to be issued "soon after the Party's national congress".
A total of 34 departments, including the Ministry of Commerce and the National Development and Reform Commission, jointly released the 12th Five-Year Plan on Trade in Services in November 2011.
It said that by 2015 China's total imports and exports of services are expected to hit $600 billion, with an annual growth rate of 10 percent.
In addition to lifestyle-related service industries, the sector also covers manufacturing-related activities, which can be improved through increased spending on research and development, improved logistics and financing, Lu said.
Fred Lam from HKTDC, added: "Services industries will play a more important role in mainland enterprises securing resources, particularly as they need to upgrade and transform their offerings, and expand overseas."
He added that "Hong Kong will remain a perfect bridge for mainland enterprises to explore international markets, and its services industries will help them improve competitiveness".
Hong Kong Financial Secretary John C. Tsang said that the services industry accounted for 89 percent of Hong Kong's employment in 2011.
"There are bright prospects for the mainland and Hong Kong to cooperate in the services sector", taking advantage in particular, of the city's "mature industrial links, rich talent pool and broad international network", as the mainland continues its rapid development, Lu said.
He added the mainland has now opened 93.1 percent of its services sector to Hong Kong investment, and that Supplement IV to the Closer Economic Partnership Arrangement, or CEPA, signed on June 29, had further lowered the threshold for Hong Kong businesses to invest.
The first China Beijing International Fair for Trade in Services, held from May 28 to June 1, saw agreements signed worth $60.11 billion.
A third of that value came from Hong Kong, according to Su Bensheng, director of the trade in services division of Beijing Municipal Commission of Commerce.
The second fair will be held in Beijing from May 28 to June 1, 2013.
Xu Kang, deputy head of Beijing Municipal Commission of Commerce, added: "In addition to showcasing the progress being made in the services sector, the fair next year will attract more growing enterprises from within the modern sector."
lijiabao@chinadaily.com.cn