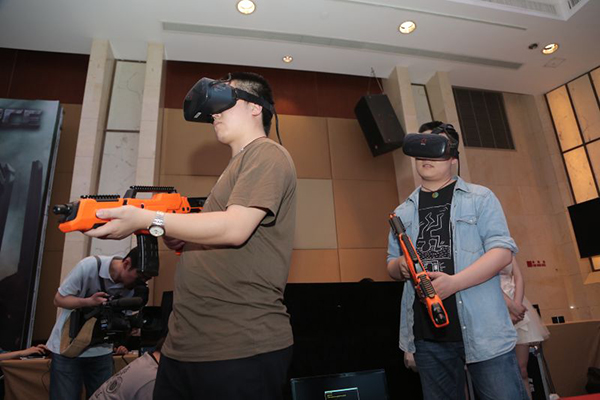 Two players demonstrate a mobile VR game by wearing DeePoon's all-in-one VR headset during the company's strategic announcement press event held on May 12, 2016 in Shanghai. [Photo provided to chinadaily.com.cn]
Chinese virtual reality hardware manufacturer DeePoon held a strategic announcement press conference on Thursday, rolling out its blueprint on building a domestic VR development platform for both industry developers and content providers.
Three major perspectives of the company's future development outlook of VR ecosystem - Creating with DeePoon, Powered by DeePoon, Winning with DeePoo - were unveiled during the event.
The company also introduced two wireless solutions for all-in-one Head-Mounted Displays(HMDs) that enable the devices to utilize laser as the core to position and track users' activities with the VR gadgets.
The technologies jointly invented by DeePoon and its partner G-Wearables, are described as the world's first wireless position tracking system.
More than ten domestic VR games designed for the all-in-one headset were also unveiled during the event.
The company announced its plan to set up a contest between China VR developers and their British peers. A bilateral gamers' meet-up event is expected to kick off at Cambridge University this summer.
According to American consulting company International Data Corporation (IDC), there are three major device categories across the augmented and virtual reality markets, including screenless viewers that use the screen of specific smartphones to drive an AR/VR experience; tethered Head-Mounted Displays (HMDs) that utilize an existing compute device such as a PC, game console, or even a smartphone to drive a head-worn display; and standalone HMDs that integrate processing within the head-worn display itself.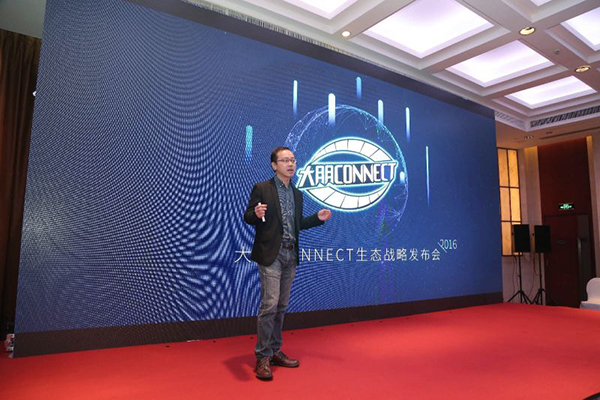 Zhang Li, chief strategy officer of Shanghai DeePoon Technology Co Ltd, delivers a keynote speech during the company's strategic announcement press event held on May 12, 2016 in Shanghai. [Photo provided to chinadaily.com.cn]
Dozens of the country's VR enterprises and startups have gathered this week at the 2016 Consumer Electronics Show Asia (CES Asia) held in Shanghai, showcasing the latest VR products such as headsets and goggles while introducing new content to run on the platforms.
"Worldwide shipments of VR hardware will skyrocket in 2016, with total volumes reaching 9.6 million units," estimated the IDC.
"Led by key products from Samsung, Sony, HTC, and Oculus, the category should generate hardware revenues of approximately $2.3 billion in 2016."
Tom Mainelli, vice president for Devices & Displays at IDC, said, "In 2016, the first major VR tethered HMDs from Oculus, HTC, and Sony should drive combined shipments of over 2 million units."
When you combine this with potencial robust shipments of screenless viewers from Samsung and other vendors later this year, you start to see the beginning of a reasonable installed base for content creators to target."
Lee Kyung Moon, chief brand officer of South Korean's VR game developer PLAYFAM, said at the panel discussion that mobile VR game, present as one of the major categories of VR games, will become more and more mainstream and be accepted by consumers as well as the traditional mobile games, while hard-core players still prefer tethered HMDs that are driven by PC or game consoles.
Zhang Li, chief strategy officer of DeePoon, pointed out that the attractive part of mobile VR devices is moving freely without limitations and boundaries, and this is the development future of VR HMDs.
In March, DeePoon jointly worked with Samsung and ARM to launch an all-in-one VR HMD, becoming one of the major players in the VR sector.
According to a latest research jointly released by China Electronics Standardization Institute and Xinhua News Agency, an expanding community of companies, both large and small, are working flat-out to make VR part of people's daily lives.
It said the Chinese VR market was worth 1.54 billion yuan ($236 million) in 2015, and is expected to rise to more than 5 billion yuan this year.