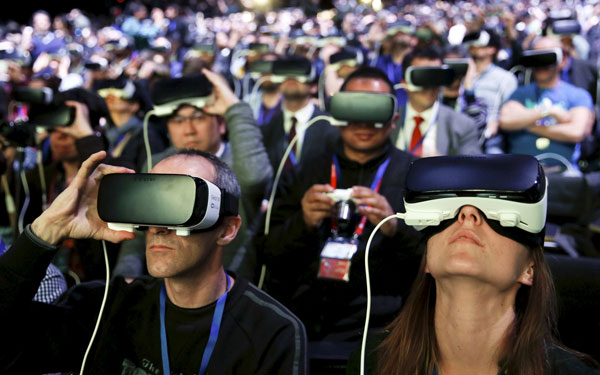 People wear Samsung Gear VR devices as they attend the launching ceremony of the new Samsung S7 and S7 edge smartphones during the Mobile World Congress in Barcelona, Spain, February 21, 2016. [Photo/Agencies]
One after another company has been going to the virtual reality, or VR, business. Search VR on any domestic e-commerce platform and up to 1,000 devices will pop up, their prices ranging from 299 yuan ($46) to 30,000 yuan. Enter any shopping center and you will find many stalls offering VR experience.
But do not try the low-cost devices, because VR requires high-end software as well as hardware. If either is not good enough, you will have a bad experience.
Although it gained popularity recently, VR is an old concept. Pioneered by US computer "philosopher" Jaron Lanier in the 1980s, it gives you some virtual experience with visions. The trick is to deceive your eyes into believing what is displayed is true.
Most VR equipment for individuals use headsets, which display images inside a small, closed space. To cheat our eyes, the image on display must be clear enough and pixel density high enough to truly imitate the real world.
For that, the VR equipment software must be powerful enough to produce high-resolution and high-quality images, while the display hardware should be of high quality to support the high-quality images. If the equipment doesn't meet the requirements, the image quality will be damaged and the experience ruined.
On Apple's official Chinese website, the cheapest model of new iPad pro, with a resolution ratio of 2732×2048 and storage capacity of 32 gigabytes, is available for 5,888 yuan. Although its display accounts for a quite high percentage of the price, iPad pro is not the best in market and professional models may cost much more. To produce images on the display, you need software. The software that produces images almost like the real world is no less expensive. Since often it's several gigabytes in size, it takes hundreds of programmers more than one year to draft such a program, and several more months to test them. Intellectual property, too, is part of the VR cost. At present, there are several main tools for VR development, such as Virtools, Nibiru and Quest 3D, and the virtual worlds they make are rather expensive.
Moreover, high-resolution images, as well as the software, take up huge storage space; VR service providers need bigger hard disks to store, and wider bandwidth to transmit them. All these increase the cost, so you should not expect to meet all the demands for a few hundred yuan.
Actually, if the budget allows, you can enjoy VR experience without wearing headsets. Aviation companies and militaries sometimes use another kind of VR in their training-covering the walls and the roof with high-quality, high-density displays so that trainees feel as if they are in a new world.
That technology is open for civil use, too. Increasingly many parks now have virtual roller coasters: the user sits in a car that vibrates while images are displayed to make him/her feel the thrills of a real roller-coaster ride. But such devices are rather expensive, and individual use of VR is not yet that popular.
The author is a writer with China Daily. zhangzhouxiang@chinadaily.com.cn