The second annual Consumer Electronics Show Asia will be held at the Shanghai New International Expo Center Wednesday to Friday. Serving as the vane of the technology industry, CES Asia showcases the breadth and depth of innovation in the field of Asian consumer electronics.
More than 350 companies, including key global brands such as BMW, Mercedes-Benz, Intel, IBM, Huawei and China Mobile, are participating and will present their latest products and technologies to executives of the industry, international buyers, the media and Chinese consumers.
The event will feature representative innovative technologies of the consumer technology industry, with a focus on the following five fields: virtual reality (VR), smart home, drones, automatic driving and connected car and electrical appliances.
VR
In 2016, the so-called the year of VR, the world's technology giants, including Sony Corp, Google Inc, HTC Corp and Samsung Group, all engaged in developing VR technologies and launched VR products that drew attention from early adopters. At CES Asia, VR's advanced, immersive experience will be brought to visitors.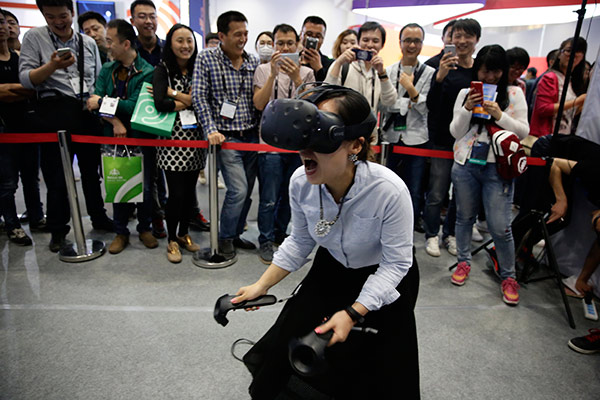 A visitor wears the HTC Vive to play a VR game on April 28, 2016 at the Global Mobile Internet Conference, Beijing. [Photo/VCG]