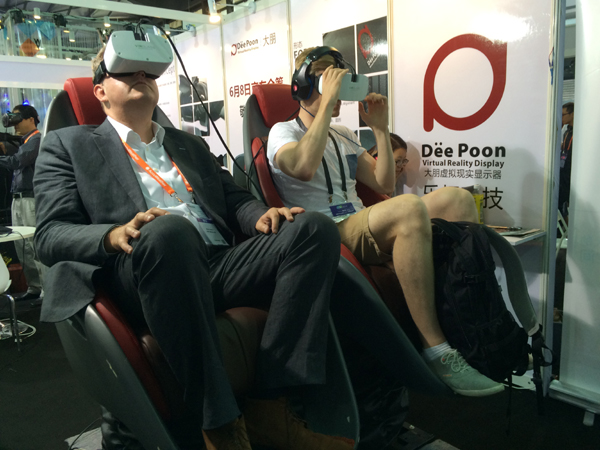 Foreign visitors experience virtual reality glasses. [Photo/Liu Zheng, chinadaily.com.cn]
The inaugural Asian version of the US-based Consumer Electronics Show opened at the Shanghai New International Expo Center on Monday.
The exhibition will feature more than 200 exhibitors from 16 countries, seven keynote speeches and three days of conference sessions before closing on Wednesday. It is "the premiere event for the consumer technology industry and will mark many firsts in the tradeshow history," according to organizers.
"CES (Consumer Electronics Show) Asia is the most important Asian and industry event launch this year. We expect announcements, innovative exhibits and big ideas for the future of technology, reinforcing the show as a major gateway to the influential Asian marketplace," said Gary Shapiro, president and CEO of the Consumer Electronics Association.
"We created CES Asia as a platform for companies to display products and discuss ideas from across the consumer technology ecosystem, from the Internet of Things and connectivity to 3D printing, robotics, wearables and more."
Highlights include: "The Outlook for the Consumer Tech Market in China and the United States," "The Future of Media in Asia," "The Impact of the Internet of Things," the "JD Smart Life Forum" and "The Wearable Tech Revolution".