After two rounds of sponsorship drive, 18 companies will be visible at the upcoming 2014 Asia-Pacific Economic Cooperation (APEC) meetings starting this week.
During the APEC week, the sponsored products will vary from transportation, communication devices, food and beverages to souvenirs and clothes.
Domestic brands are greatly supported and promoted by the Chinese government. More domestically developed official cars are seen and Chinese clothing brands are worn by leaders in top-level visits. Experts said that APEC is a good opportunity for traditional Chinese brands to develop their overseas market and make their names known globally.
Let's take a look at the Chinese sponsors of APEC.
FAW Car Co Ltd
China's FAW Group will be providing its L5 model as official vehicle for all visiting leaders at APEC.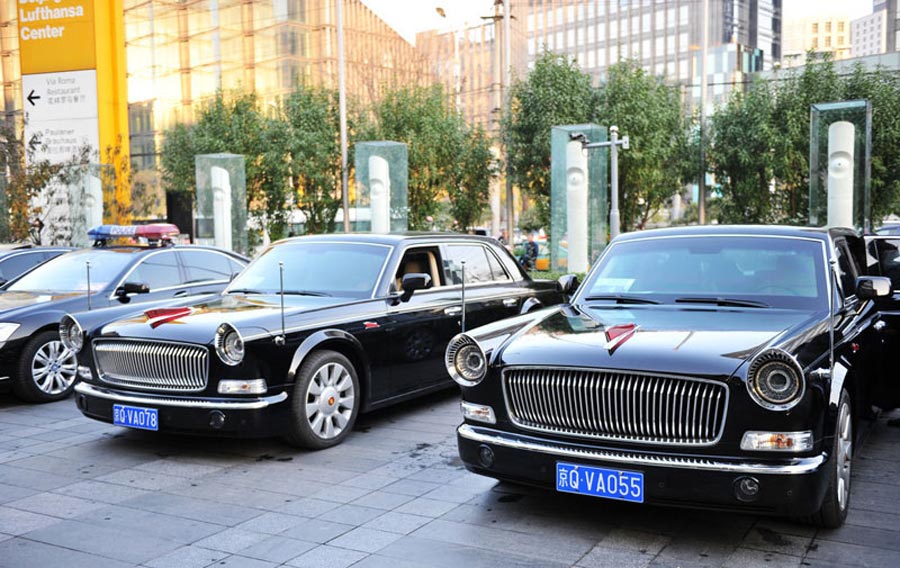 Three Hongqi (Red Flag) L5 limousines are parked outside a hotel in Beijing on Nov 4, 2014. Each of the luxury cars is priced at six million yuan ($979,831). [Photo/CFP]