Alibaba Group Holding Ltd's public offering in September has made it one of the best Chinese Internet brands this year.
Interbrand, a New York-based global branding consultancy, published a list of 2014 Best China Brands on Nov 13.
It listed the top 50 brands in China, using three key measurement of value: financial performance; the role the brand plays in influencing customer choice; and the strength the brand has to command a premium price or secure earnings for the company.
As a newcomer, Alibaba was listed at the third place. After Tencent, it ranks second among seven listed Internet companies.
With a total of 335 trillion yuan ($54.7 trillion), the total brand value of Internet brands rose from 11 percent to 24 percent compared with last year, making the industry the second most valuable after the financial services sector.
In a sign that signifies the growth in China's Internet industry, Wuzhen, a town in East China's Zhejiang province, is holding the World Internet Conference from Wednesday to Friday.
It will focus on several hot issues in the cyberspace, including cyber security, online anti-terrorism crackdown, mobile network and cross-border e-commerce.
Let's take a look at the top seven Internet brands ranked by Interbrand.
No 7 Sohu
Brand value: 2.87 billion yuan
Rank: 45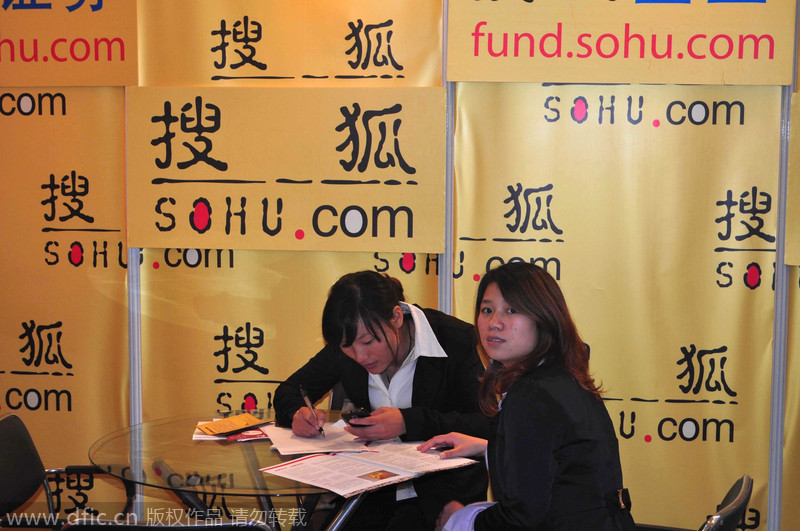 Employees at the stand of Sohu.com during an exhibition in Shanghai, Nov 19, 2011. [Photo/IC]