Chen Heyin, a man who lives in a village in Jiujiang city, East China's Jiangxi province, has been supporting his family by catching and selling ants.
The ants that Chen catches are called silky ants, a variety that is used in traditional Chinese medicine. He has long been interested in traditional Chinese herbals, and found the ants were useful almost 22 years ago.
After catching the ants, Chen puts them in a refrigerator and freezes them to death. After cleaning the mud and dirt, he fries them and then sells them.
Usually, the fried ants fetch 1,600 yuan ($257) per kilogram. By selling herbs and fried ants, Chen can earn 50,000 to 60,000 yuan each year.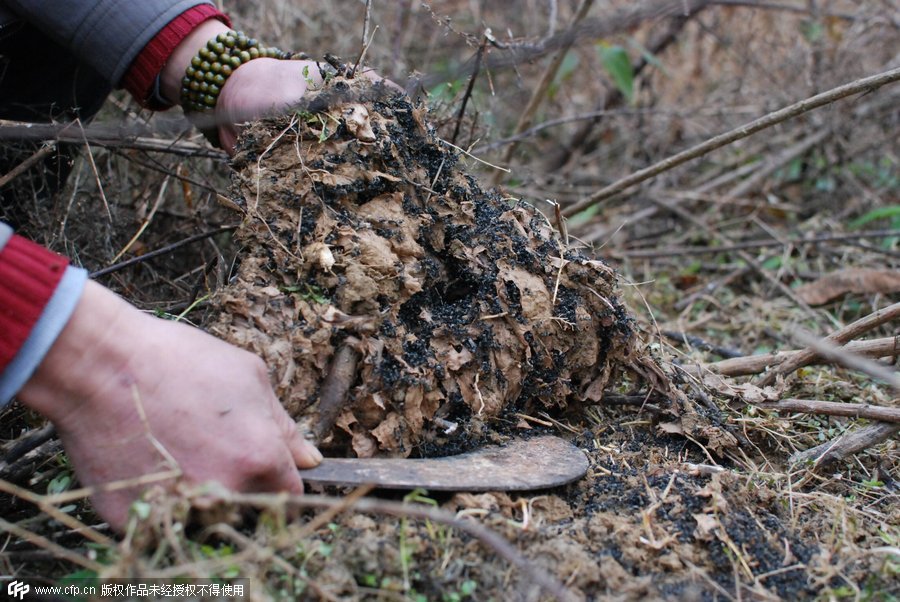 Chen Heyin uses a tool to get to an ants nest on a hill in his village in Jiujiang city, East China's Jiangxi province, Dec 25, 2014. [Photo/CFP]