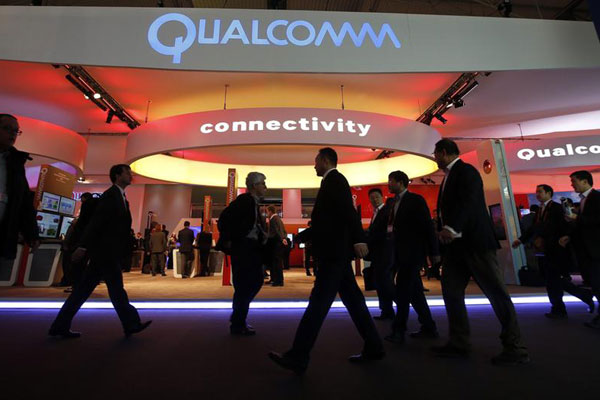 Visitors walk past the Qualcomm stand at the Mobile World Congress in Barcelona in this file photo taken February 24, 2014. [Photo/Agencies]
Innovative work draws investment in mobile, wireless tech companies
Mobile chip giant Qualcomm Inc is investing $40 million in Chinese tech startups notwithstanding the record-breaking antitrust fines it is facing in the country.
Top executives from Qualcomm said China still remains a key market for the San Diego, California-based company despite regulatory investigations that may cloud its 2015 revenue outlook.
The selected companies were strategically chosen for their innovative work on mobile and wireless technologies, said Jeff Lorbeck, senior vice-president of Qualcomm, who heads the company's China operation.
He said investing in local wireless technology startups will help Qualcomm get an upper hand in a rapidly growing mobile Internet market.
Most of the investment has gone to Chukong Technologies, a mobile entertainment platform provider planning an initial public offering. Unisound, a voice recognition and processing technology provider and China Walden Venture Investments LP, a venture capital firm are among the other companies.
The investment was a part of the $150 million China investment commitment that Qualcomm made in July. During the same month, the National Development and Reform Commission, an antitrust investigator, said it was completing its monopoly investigations against the company.
Industry sources estimate that Qualcomm could pay more than $1 billion as monopoly penalties. In addition, Qualcomm may also face difficulties in collecting patent royalties from Chinese smartphone vendors, a major blow for the company's revenue.
Qualcomm announced plans to cut about 600 employees globally on Thursday. The company is laying off roughly 300 staff in California, the US news site Times of San Diego reported, citing official fillings to the local employment department.
Lorbeck refused to disclose layoff details in China.
Qualcomm is also facing strong challenges from other industry players. Intel Corp, a maker of x86-based chips, said a week ago it is spending $1.6 billion to beef up its semiconductor plant in Chengdu, Sichuan province.
Intel is ready to take on Qualcomm in the mobile sector after the company successfully boosted the power efficiency of its smartphone and tablet chips. Lenovo Group Ltd, Acer Inc and Dell Inc are already rolling out tablets installed with Intel chips.