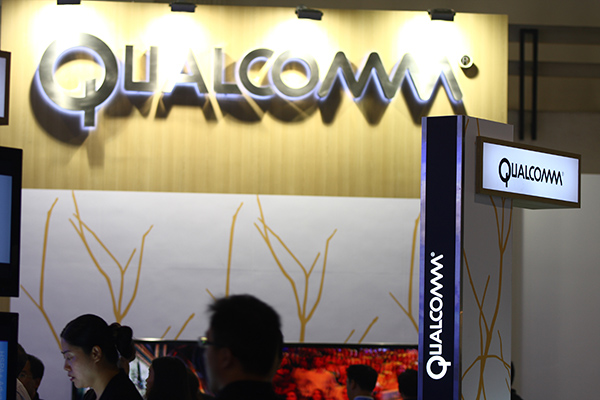 An exhibition stand for Qualcomm in Beijing. China is a crucial market for the United States-based company. [Photo/China Daily]
Xu Kunlin headed the investigation into the semiconductor giant, which was fined $975 m, and now talks about his role at the NDRC
Xu Kunlin headed the investigation into the high-profile case against Qualcomm Inc, the United States-based semiconductor giant.
The company was fined a record $975 million in February by the National Development and Reform Com-mission in a landmark anti-trust probe after it agreed to modify its technology licensing practices in China.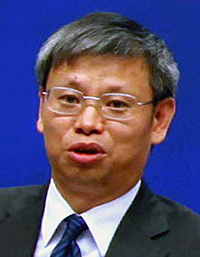 Xu Kunlin, former chief of the price supervision and anti-monopoly bureau at the National Development and Reform Commission. [Photo/China Daily]
The country is a major market for Qualcomm with about half of its $26.5 billion in revenue last year coming from here.
It is now even more crucial after 4G LTE networks were rolled out by China Mobile Communications Corp and other wireless operators. This year, the number of 4G LTE subscribers in China is expected to rise to 350 million from about 100 million in 2014.
Chinese smartphone manufacturers need to license Qualcomm's technology to protect themselves from patent lawsuits. Part of the deal with the NDRC was to reduce those licensing fees to companies such as Huawei Technologies Co Ltd and Xiaomi Corp.
During the case, one man was key to the investigation. Xu, 51, was the chief of the price supervision and anti-monopoly bureau before becoming the director of two other departments at the NDRC.
Below are abstracts from his interview with the Chinese-language Oriental Outlook, which was published on Monday.
Since the Qualcomm case lasted 14 months, what kind of pressure were you under?
The pressure had nothing really to do with the length of the case. We were involved in 28 rounds of negotiations, including eight between myself and Qualcomm president (Derek Aberle). In the first round of talks, he brought six vice-presidents to introduce their business model. The main purpose was to explain and defend their way of doing business. We were fully prepared for that and raised questions concerning all the different aspects. The first meeting lasted for more than two hours. In the second round, he brought eight vice-presidents.
So what happened after that?
Qualcomm then handed over a report that was written by Zhang Xinzhu, a member of the Chinese Academy of Social Sciences who sat on the commission advising the government's anti-trust authority. We felt this was a conflict of interests, so he was removed from the commission.
On Oct 9, 2014, you were named the chief of the price supervision bureau at the NDRC. This must have been a day of mixed emotions as we understand talks were tough?