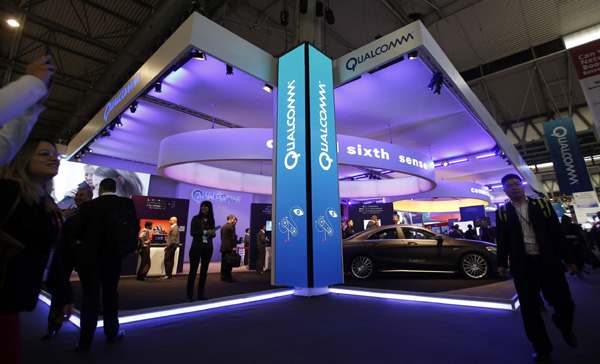 Visitors walk past the Qualcomm Inc stand at the Mobile World Congress in Barcelona, Spain, in February 2014. The chipmaker was fined $975 million for anti-monopoly violations. [Photo/Agencies]
Smartphone firms may gain from chip giant's decision to reduce patent licensing charges
Though Qualcomm Inc has agreed to pay a record fine of about 6.08 billion yuan ($975 million) for antitrust violations, the move is likely to have little impact on the United States-based chipmaker's revenue from China, industry experts said on Tuesday.
Instead, the lower patent fees will help grow the chipmaker's client base and boost earnings in the world's largest smartphone hub.
The chip giant is also expected to lower royalties on third-generation devices to 5 percent and to 3.5 percent for some fourth-generation devices. The royalty base was earlier set at 65 percent of the net selling price of the devices, and in most cases Qualcomm charged Chinese 4G devices makers around 5 percent.
Although Qualcomm has lowered royalties, it will still collect patent fees based on the whole price of the device, a significantly higher valuation method than charging the fees based on different models of the device.
Nicole Peng, research director at Canalys China, a market research firm, said the two categories in which Qualcomm plans to lower the royalty rates are those with products at low price points and hence would not have a significant impact on overall revenue.
"We expect these two categories to account for less than 40 percent of the total 4G device shipments this year and even less in the subsequent years," Peng said.
The fastest business driver for Qualcomm's 4G business are the devices using the TD-LTE, a technology supported by China Mobile Ltd, the country's largest telecom carrier and a number of other State-owned telecom equipment makers. The TD-LTE technology also supports the biggest 4G network in China.
"Qualcomm is receiving most of its license revenue from TD-LTE devices and these are expected to see rapid growth in the coming years," she said. The San Diego, California-based company did not disclose how it plans to charge royalties for TD-LTE devices.
Bryan Wang, principal analyst and country manager of Forrester Research Inc, said: "I think in general Qualcomm will actually benefit from this settlement. More local phone makers will partner with Qualcomm in the future as they try to tap into the international market.