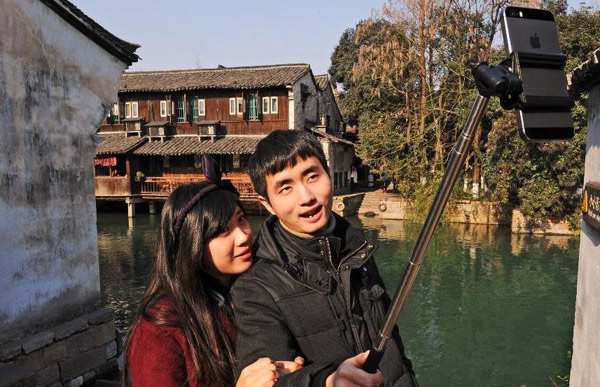 Tourists take 'selfies' in Wuzhen town in Tongxiang city, East China's Zhejiang province, Jan 2, 2015. [Photo/Xinhua]
BEIJING - China's tourism revenue in 2014 grew 14.7 percent to reach 3.38 trillion yuan ($551 billion), a tourism official said on Tuesday.
There were 3.6 billion domestic trips made, up 10.7 percent, according to Du Jiang, deputy director of the National Tourism Administration.
For the first time, last year more than 100 million Chinese tourists went abroad, up 19.5 percent.
Revenues from inbound tourism hit $56.9 billion, up 10.2 percent.
Du attributed the tourism growth to factors such as the global economic recovery, improved international airline capacity and favorable tourism policies.