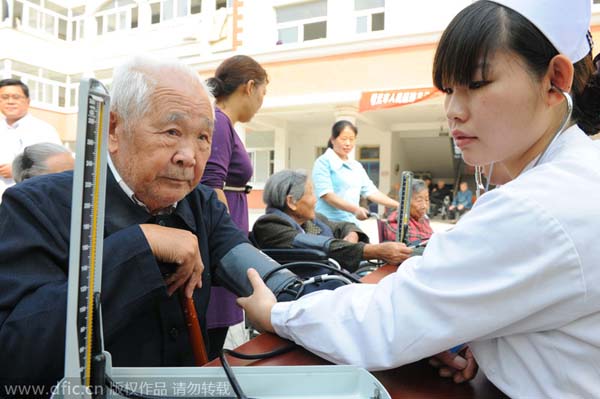 The prospect of 223 million people aged 65 or older predicted to live in China by 2030. [Photo/IC]
Investors are rushing into China's booming healthcare business, helping M&A deal values surpass those of the hot Internet sector, as the country prepares to cater to hundreds of millions of elderly patients.
Encouraged by a relaxation of foreign ownership rules last year and a rapidly ageing population, private equity firms such as TPG Capital and industry players including Malaysia's IHH Healthcare Bhd are investing in Chinese hospitals, pharmaceutical companies and device makers.
The prospect of 223 million people aged 65 or older predicted to live in China by 2030 is just too enticing for these companies, despite significant risks such as weak hospital infrastructure, rising valuations and a dearth of doctors.
The companies have begun leveraging connections of local partners to hire doctors, and to help expedite local licenses and permits to start work on planned projects.
China has forecast healthcare spending by the private sector, state-owned enterprises and consumers to treble to 8 trillion yuan ($1.3 trillion) over the next five years, as it tries to cope with the boom in its ageing population, a result of the country's decades-long one-child policy and current low fertility rate.
"I spend 70 percent of my time looking for healthcare deals in China," said Steve Wang, co-founder of Hong Kong-based private equity firm Pine Field Capital. "It's a really hot sector in China, as hot as mobile Internet."
After years of steady growth, China healthcare mergers and acquisitions more than doubled to a record $18.5 billion in 2014, Thomson Reuters data showed. This January alone, deals totaled $6.9 billion, an acceleration in activity that points to another blockbuster year.
Deals involving China's ecommerce, Internet software, services and infrastructure also reached a record in 2014, but with $17.9 billion they trailed healthcare.
China started to liberalize its healthcare sector in 2009 but it was only in 2014 that it allowed full foreign ownership of hospitals, further deregulated drug prices and implemented rules to fast-track the approval of medical devices.