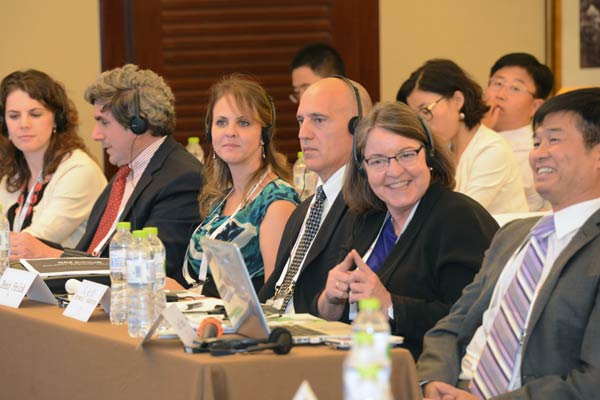 Member companies of the Smart Healthy City Alliance from the United States attend the first China Smart Healthy City Conference at the ongoing China Sourcing Summit in Hangzhou, as they seek business opportunities in China. DONG XUMING/CHINA DAILY
Smart healthcare is growing trend to spread across China and world
Both foreign and domestic companies are eyeing the huge smart healthcare market in China as the nation speeds up its development of innovative healthcare services for its citizens.
Ian Hau, founder of the Smart Healthy City Alliance, told the China Sourcing Summit 2014 on Thursday that at the core of a smart healthy city is providing public access to quality and affordable health services.
"To put it in simple terms, the future of healthcare in China is digital, mobile and personal healthcare plans," Hau said.
But he said that building such a sustainable business model is a challenge and that combining Chinese and Western approaches will be a must.
"We have successful models in Western countries as they have taken it one step further than China has, and by borrowing some ideas from them, the development can be faster," he said.
The alliance is promoting the "smart healthy city" concept in China in cooperation with several healthcare companies from the United States.
For instance, Genesis Rehab Services, based in Philadelphia, opened its China operations center in May in Guangzhou, Guangdong province.
Dean Feick, vice-president of international operations, said Genesis will open its first long-term care rehabilitation clinic in Guangzhou in November.
The clinic's focus is on helping people deal with chronic diseases, including diabetes and obesity, as well as providing physical therapy, occupational therapy, speech therapy, respiratory therapy and wellness services for senior citizens.
Feick said the company's ambition is to open more clinics in China than it has in the US.
Last year, the company opened an average of 400 clinics in the US per month. The ratio of its clinics in the US is 8,000 people per clinic.
"We are pretty confident in the Chinese market because the population is large and the demand is tremendous. Our service is proven in the US, and I believe we can be well-accepted by the Chinese," Feick said.
He added that he is looking forward to sharing business opportunities with Chinese companies.
Hong Gang, CEO of Sino SmartHealth Management, said that the future market of smart healthcare cities is tremendous.
"Diabetes, high blood pressure and obesity are health problems that Chinese people are suffering from. Along with rehabilitation demands, there are many perspectives to focus on in this industry," he said.
Hong's company introduces advanced technologies and the management of smart healthcare services and applies them to Chinese communities.
"As a Chinese company, we know the demand of the market well," he said.
On Aug 27, eight ministries and commissions, including the National Development and Reform Commission, the Industry and Information Technology Ministry, and the Science and Technology Ministry jointly urged the development of smart healthcare cities nationwide.