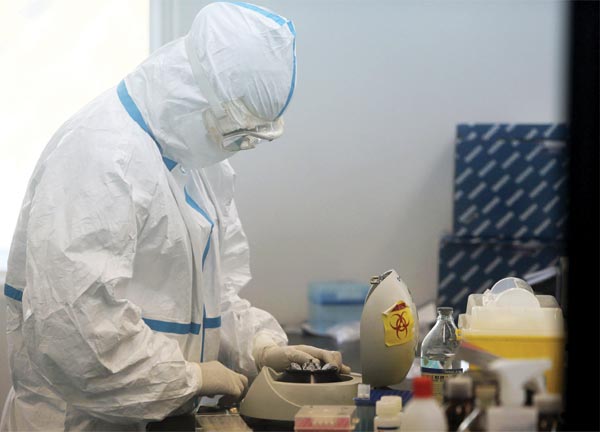 A doctor carrying out tests at the Chinese Center for Disease Control and Prevention laboratory in Beijing. China is beginning to make breakthroughs on the medical front and now has the ability to develop its own vaccines. [Photo/AFP] 
Asian firms could lead the way in huge biologic drugs market
Shortly after the outbreak of H7N9 avian flu in China in 2013, two of the country's biotechnology companies were quick to develop vaccines, put them through clinical trials and apply to get them on the market.
Hualan Biological Engineering Inc and Sinovac Biotech Ltd both submitted their applications before the end of January this year for vaccines for different strains of avian influenza, commonly known as "bird flu".
Two months earlier, researchers from five different institutions in China had developed the country's first vaccine strain for avian flu in what Li Lanjuan, a professor at the Zhejiang University School of Medicine, calls "a breakthrough".
"China didn't have the ability to develop our own vaccine strains in the past. We used to import from abroad and then put it into manufacture," Li says.
These developments were barely noted in the press but were significant as they marked the continuation of a global trend in the industry. This trend could see Asian companies emerge as more globally important makers of biologic drugs, which many see as key to future medical advancements.
Much of the future of biologic medicine, from drugs to cure disease to the deals that will help economic growth, is now focused on Asia.
Biologics or "big molecule" drugs, as opposed to chemical formulations, are made from living organisms. They are manufactured inside living systems like microorganisms or inside the cells of plants or animals.
Biologic drugs are the next great frontier of healthcare. Global pharmaceutical companies are looking to biologic drugs as key to solving some of the most complex healthcare riddles of our time, from curing cancer to bringing back the elderly from the abyss of Alzheimer's disease.