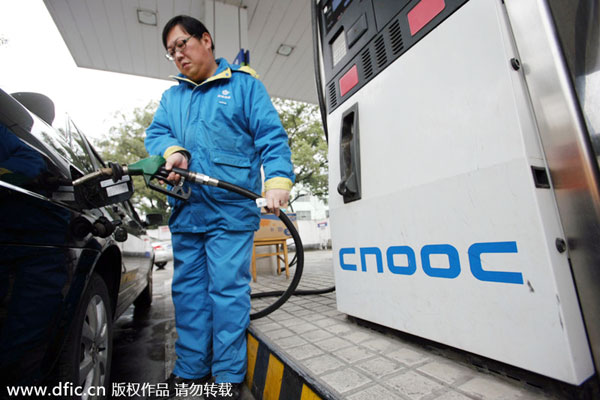 A Chinese employee refuels a car at a gas station of CNOOC (China National Offshore Oil Corporation) in Shanghai, Feb 26, 2013. [Photo/IC]
Oil producer, Zhangjiagang retailer to jointly tap downstream businesses
China's third-largest oil producer CNOOC Ltd has teamed up with the privately owned CNPC&TAFO Petro Corp to jointly develop gas station businesses, a further step in the opening-up of the nation's energy sector.
CNOOC gained nine franchise gas stations owned by CNPC&TAFO, a Zhangjiagang-based private company majoring in oil retailing in Jiangsu province via the contract, according to CNOOC's statement. CNPC&TAFO will follow the standards of CNOOC to operate the nine gas stations.
Sinopec Group, the largest refiner in China, has dominated China's gas retailing market along with PetroChina Co, the country's biggest oil and gas producer, for a long time.
"The cooperation between CNOOC and the private oil retailing company aims at strengthening the downstream sector of the oil explorer," said Lin Boqiang, director of the China Center for Energy Economic Research at Xiamen University.
He said PetroChina and Sinopec used to employ the strategy of increasing the number of franchised gas stations to expand their downstream businesses in the past. However, the situation has now changed.
"It is not easy to build new gas stations at present while the private companies are not willing to sell gas stations because of good profits," Lin said. "This seems to be the only option for CNOOC to enlarge its retailing business."
By the end of 2013, Sinopec owned more than 30,500 gas stations in China, accounting for about 33 percent of the total number. PetroChina has more than 20,000 gas stations.