Healthcare needs fixes: expert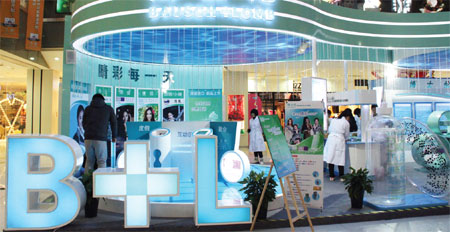 Bausch & Lomb Inc's display at a mall in Beijing. The company has been fined for price-fixing, along with other contact lens and eyeglass manufacturers. Provided to China Daily
While the Chinese government has just cracked down on price fixing by foreign-based lens makers, it also needs to become "more concerned" about systemic problems in the country's healthcare industry, a consulting firm executive said.
Since 2009, China has spent 3 trillion yuan ($480 billion) on healthcare reform, but the system still struggles with a scarcity of doctors, attacks by patients on medical staff and a fragmented drug distribution and retail market.
"Till that's fixed you're going to see costs, quality and access be problems in (China's) healthcare system," Benjamin Shobert, founder and managing director of Rubicon Strategy Group, a Seattle, Washington, consulting firm specializing in healthcare, life science and senior-care industries in China, told China Daily on Thursday.
Shobert's comments were made in response to China's top economic regulator announcing that Johnson & Johnson, Bausch & Lomb Inc and other major eye glass and contact lens producers were fined more than 19 million yuan ($3.04 million) for fixing prices.
The companies mandated that their dealers set the price of lenses strictly in accordance to a "suggested level", the National Development and Reform Commission (NDRC) said in a statement on its website. They also ordered retailers to jointly launch promotions in major Chinese cities all year around to keep prices stable, the notice said.
Dealers and retailers who do not comply with the order will be subject to unspecified financial penalties, the NDRC said. Other penalties may include seeing a halt to their supplies from the overseas manufacturers.
Executives with New Jersey-based Johnson & Johnson and Bausch & Lomb could not be reached for comment.
Hoya Corp and Shanghai Weicon Optics Co were also investigated and were exempt from punishment because they had voluntarily reported monopolistic practices and rectified the issue, the NDRC said.
This week's crackdown on the lens makers comes as China's private healthcare sector is being allowed to draw investment from both domestic and overseas firms.
Shobert said the increased scrutiny could cause the healthcare sector's foreign investors to become "more concerned" about their investments. "They could take a step back because they will see that the double-digit rate of growth of the past is going to slow because they have to be more conservative," the consulting firm founder said in an interview.
Shobert discouraged tying China's plan to ease curbs on foreign investment in joint-venture hospitals to its crackdown on price fixing, saying they are separate reforms.
"Those two policies are going in different directions. One is more hospitable to foreign investment and the other less hospitable," he said.
In a healthcare reform plan for 2014 published on its website, China's cabinet, the State Council, said it aimed to relax limits on foreign investment in hospitals on the mainland.
The plan involves overhauling the management of medical joint-ventures that involve overseas partners, including "reducing restrictions on the percentage of foreign ownership in medical joint ventures and collaborations," it said in the statement.
The move would increase the number of cities where investors from Hong Kong, Macao and Taiwan could set up wholly-owned medical institutions, and allow overseas investors to set up wholly-owned hospitals in designated areas, such as the Shanghai free trade zone.
The statement gave no details of the timeframe of the easing or the changes in holdings.
China's underfunded network of 13,500 public hospitals relies heavily on drug sales, contributing to inflated prices, kickbacks and tension between patients and doctors.
About 40 percent of Chinese public hospital revenue in 2011 came from prescribing drugs, Health Ministry data show, while medical services accounted for just over half, with government subsidies and other income making up the rest.
China will also stiffen monitoring of the prices of imported drugs and medical equipment, the State Council said.
michaelbarris@chinadailyusa.com