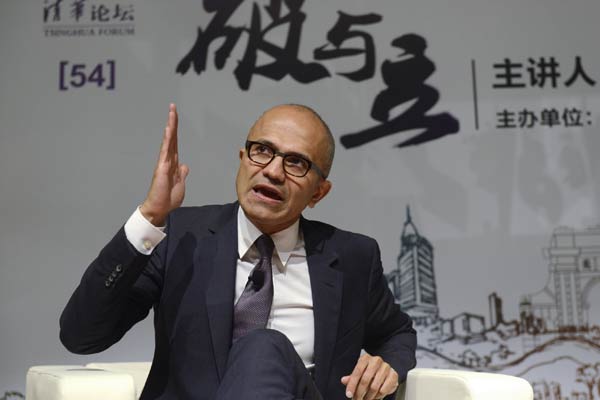 Satya Nadella, chief executive officer of Microsoft Corp, speaks at a seminar at Tsinghua University in Beijing, Sept 25, 2014. Nadella is on his first visit to China as the CEO of the tech company. MAO SHUO/CHINA DAILY
Microsoft Corp's new CEO extended an olive branch to Chinese regulators on Thursday in Beijing amid a high-profile antitrust investigation that is potentially hurting the sales of its flagship products in the country.
Satya Nadella, on his first trip to China after taking over as the chief executive of the global software major in February, said Microsoft has to trust the Chinese government and work with industry regulators to expand its business in the world's top information technology market.
"The fundamental success of Microsoft was based on the value we create in every place that we operate in. We were able to come into China and will continue to contribute (to the Chinese economy) and cooperate with governments," said the 47-year-old Indian-American.
"Microsoft has benefited from China's human capital in research, and the vibrant innovation culture will help more local businesses go global in the mobile world," said Nadella.
The CEO's fully booked two-day China trip includes meetings with partners, college students, local employees and government officials. He is scheduled to meet more local partners in Shenzhen, Guangdong province, on Friday.
The antitrust regulator is probing Microsoft's Windows operating system and Office software under monopoly charges.
The State Administration for Industry and Commerce said in August the US company has not been fully transparent with its sales data on the software on the mainland after a raid of Microsoft offices in multiple cities, including Beijing, Shanghai and Chengdu.
The company has also been mired in layoff disputes, top executive departures and product launch delays in recent months.
In August, employees at its mobile phone plant in Beijing protested a layoff that may affect around 4,000 employees.
Earlier this month, Zhang Yaqin, who had been heading Microsoft's largest research and development facility outside the US since 2006, left the company to join Chinese online search provider Baidu Inc.
The official mainland launch of Microsoft's game console Xbox One also saw a last-minute postponement this week. The device, previously not allowed to enter the mainland market because of a decade-old ban on video game consoles, is expected to go on sale on Monday.
Nadella did not go deep into the turbulence the company is facing in China at the public events on Thursday. Instead, he hailed the public cloud establishment in the country, saying the growth of its Windows Azure cloud business has exceeded previous forecasts.
Microsoft is the first overseas company to open a Chinese mainland-based public cloud business.
Kitty Fok, managing director of industry consultancy IDC China, said Windows Azure enjoys technology advantages in the Chinese cloud-computing market and is heading in the right direction.
"Microsoft needs to speed its product localization project for Windows Azure to maintain its leading position because local players such as Aliyun (the cloud affiliate of Internet giant Alibaba Group Holding Ltd) are rapidly closing the gap," said Fok.
Cloud-based mobility business is poised to be the new focus for Microsoft as the company is vigorously seeking new profit boosters in the post-personal computer era.
Nadella, who was heading the cloud business for Microsoft before becoming CEO, said public cloud targeting startups in China will enable the company to build a larger ecosystem in smartphone, wearable devices and other mobility sectors.
Windows Azure is currently serving more than 20,000 customers in China, the company said.