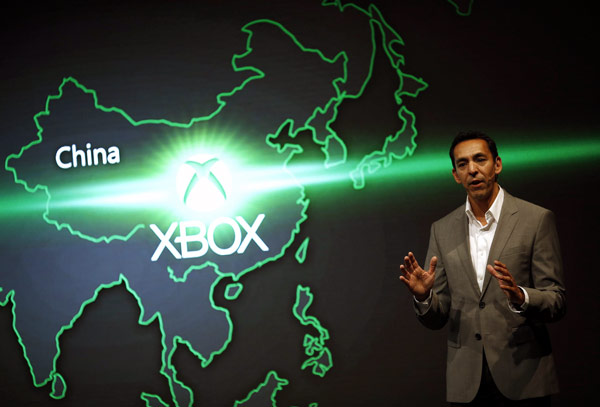 Yusuf Mehdi, head of marketing and strategy for Microsoft's Xbox group, speaks during the presentation of the Xbox One as part of ChinaJoy 2014 China Digital Entertainment Expo and Conference in Shanghai July 30, 2014. [Photo/Agencies]
After an initial delay, Microsoft announced on Tuesday that the Xbox One video game and entertainment console will go on sale in China on September 29.
"After receiving government approval for the first wave of games, we will launch the first 10 games now and continue our work to bring more blockbuster games and a broad offering of entertainment and app experiences to the platform in the weeks and months to come,"said Enwei Xie, General Manager of Xbox China. "With extraordinary effort and seamless cooperation across parties, we are incredibly excited to deliver Xbox One to fans in China and we welcome them to the Xbox family."
Originally slated for release on Tuesday September 23, Microsoft announced the launch would be delayed. In a statement published on their Sina Blog, the Redmond company stated that the system will launch before the end of 2014.
In the press release sent out Tuesday evening, Microsoft reiterated its promise to release the Xbox One gaming device in China. China has long had regulations that prohibited the direct sales of gaming consoles such as the Xbox One and PlayStation 4. Last year, due to the establishment of the Shanghai Free Trade Zone, these restrictions were lifted. The Xbox One will be the first major video game console to hit the Chinese mainland in 14 years.
"This milestone is significant for both our partnership with China and our global expansion plan. Every new market launch is unique and we're grateful to our fans for their patience and enthusiasm throughout the process,"said Phil Spencer, head of Xbox. "We will continue to work closely with our partner BesTV to bring exciting games, entertainment and app experiences to delight gamers across China."
Forza Motorsport 5, Kinect Sports Rivals, Powerstar Golf, Zoo Tycoon, Max: The Curse of Brotherhood, Dance Central Spotlight, Neverwinter Online, Rayman Legends Trials Fusion, and Naughty Kitties from Chinese developer Coconut Island will launch with the Xbox One in China. Microsoft promises more games to come as well as over 70 titles available via Microsoft's Xbox Live service.
In addition to it's gaming capabilities, the Xbox One will also be able to download video streaming services and messaging services.
The Xbox in China is a partnership between Chinese Internet TV service provider BesTV and Microsoft. The companies set up a joint venture within the Shanghai Free Trade Zone in 2013.
"China has celebrated gaming for many years and there couldn't be a better way to celebrate the one year anniversary of the Shanghai Free Trade Zone than to deliver the first approved console to our fans,"said Zhang Dazhong, Senior Vice President of Shanghai Media Group and Chairman of the Board, E-Home Entertainment. "At BesTV we have a rich history of delivering innovative entertainment content and the arrival of Xbox One allows us to dynamically expand our experiences for gamers and families across China in the coming months."
Rival Sony Computer Entertainment has also made plans to release their console, the PlayStation 4 in China. Sony also created a joint venture with Shanghai-based Oriental Pearl Group. So far the Japanese company has not announced a release date for their system.
According to Microsoft, the Xbox One will be available at 4,000 retail locations in 37 cities. The Xbox One system retails for 3,699 yuan ($602).