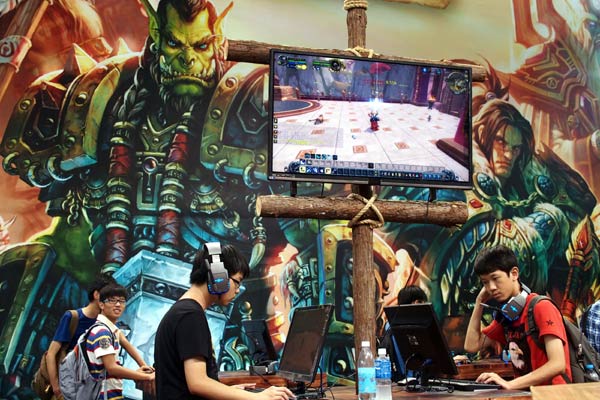 Visitors play online games at a digital entertainment expo in Shanghai. The number of Chinese gamers reached more than 400 million in the first six months, according to the China Gaming Industry Report released on Wednesday. REN LONG/XINHUA
The stars of the gaming industry shone on Wednesday at the 2014 China Digital Entertainment Expo & Conference in Shanghai, with Microsoft Corp announcing the launch of its game console Xbox One on Sept 23.
The console will be priced at 3,699 yuan ($599) without the Kinect sensor and 4,299 yuan with it. The console will launch with some of its original Western launch titles including Titan Fall and Nba 2k14.
Xie Enwei, general manager of Microsoft's greater China region, also said that Microsoft had signed a multi-year deal for three games with Chinese gaming giant Beijing Perfect World Network Technology Co Ltd .
One of Perfect World's games, NeverWinter, a massive multiplayer online role-playing game, will launch with the system.
"Microsoft will definitely make some localization of the game console when it starts selling in the Chinese market. An opportunity is being given not only to Microsoft but the entire gaming industry in China, including the e-commerce platforms that may help sell game consoles in the future," said Xie.
Xiao Hong, chief executive officer of Perfect World, said the company's studios all over the world have started developing games for the Xbox console. He said Perfect World's games, which have strong Chinese characteristics, are very attractive to Microsoft's localization strategy.
The Chinese gaming industry expanded rapidly in the first half of this year, with sales growth at a five-year high of 46.4 percent, amounting to 49.6 billion yuan.
The number of Chinese game players increased 9.5 percent to about 400 million in the first half, according to the China Gaming Industry Report, which was released at the start of the expo.
Sales of online games solely developed in China surged 41.3 percent to 34.3 billion yuan, while sales of overseas games reached $800 million, up 66.7 percent year-on-year.
Among all games, mobile games grew the most rapidly in the first half, with the number of users reaching 330 million in China, up 89.5 percent year-on-year. Sales of mobile games grew exponentially, rising 394.9 percent to 12.5 billion yuan.
With their eyes on these numbers, key market players are adjusting their strategies.
Liu Wei, director and chief executive officer of Shanghai Giant Network Technology Co Ltd, which was once known for its online games, said the company is now venturing into the mobile games market.
Chen Jie, senior vice-president of Qihoo 360 Technology Co Ltd, said that Chinese users are also becoming more mature, with "a great number" willing to pay for mobile games. In some cases, Chen said, gamers are willing to spend more than 10,000 yuan a month.