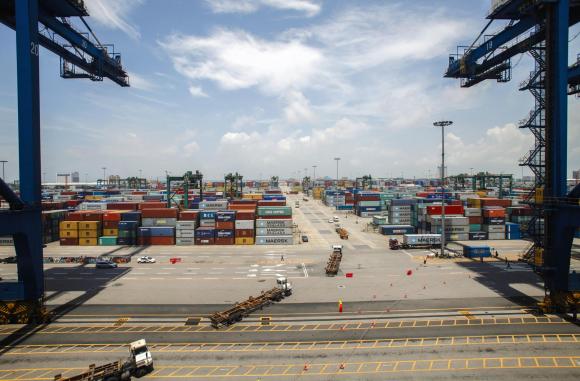 Containers are transported at Nansha port in Guangzhou, Guangdong province, June 26, 2014. [Photo/Agencies]
China's regional economies enjoyed a revival in growth in the second quarter, data from provincial governments showed, chiming with earlier figures that suggest a burst of government stimulus measures is re-invigorating activity.
Of the 30 regions and provinces that released their local gross domestic product (GDP) data, 23 reported first-half economic growth accelerated from the first quarter.
About three-quarters posted growth that was higher than the national average of 7.4 percent in the first six months.
Growth also diverged sharply between eastern and western China. The coastal and northeastern regions fared the worst, while activity was most buoyant in the central and western areas, where double-digit growth rates were concentrated.
Analysts said this suggested China's bid to rebalance its economy is paying off.
From redefining job targets to shifting investment to inland areas and cutting obsolete capacity in energy-guzzling sectors in the north, China wants to overhaul the world's second-largest economy and encourage more sustainable and higher-quality growth.
"The growth gap is an expected result of Beijing's efforts to rebalance regional economies and let the fruits of growth be more evenly shared by the poorer inland regions," said Nie Wen, an analyst at Hwabao Trust in Shanghai.
In Hebei -- China's top steel producer -- for instance, GDP growth stayed sluggish in the first six months, even though activity picked up slightly to 5.8 percent compared with 4.2 percent in the first quarter.
Hebei's drowsy performance is in part due to its efforts to remake itself. Hebei wants to slash total steel capacity by 60 million tons by 2017 and to shut more outdated steel mills this year to cut air pollution in northern China.
Similarly in the northeastern Heilongjiang province, the only province that has not released its GDP data, a local statistician who declined to be identified said first-half GDP growth was likely to be the lowest in China at under 5 percent.
A hub for China's heavy industry and a major coal producer, Heilongjiang was also the weakest performer in the first quarter, when its GDP growth fell to 4.1 percent.