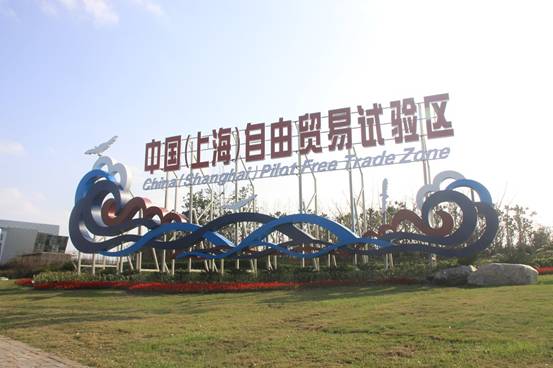 The business park of Yangshan Free Trade Port Area, China (Shanghai) Pilot Free Trade Zone. [Provided to China Daily]
Yangshan Free Trade Port Area (YFTPA) needs to deepen its innovation systems to create a better investment climate for more international businesses, said Weng Wei, general manager of the Shanghai Free Trade Zones United Development Co (FTZUDC).
It has worked out new policies to push forward its efforts to provide a one-stop procedures clearance pattern service, let foreign investors enjoy accepted national standards in the company setting up period, and allow financial institutions to access market-oriented pricing, said Weng.
"Those policies will help to accelerate the port's trade and investment growth," he said, adding that YFTPA now encourages transnational corporations to set up Asian-Pacific headquarters or operations centers.
As the first free trade port area of China, YFTPA occupies the largest portion of Shanghai's Free Trade Zone and is operated by the FTZUDC.
But now it faces an awkward situation in that foreign-funded ventures only account for a small portion of the entire number of settled companies. Until the end of June, FTZ had 1,245 overseas-funded enterprises out of a total of 10,445 registered enterprises, according to Zhu Min, deputy director of the China (Shanghai) Pilot Free Trade Zone Administration.
The reason for this lies mainly in the fact that FTZ cannot provide a preferential tax policy for investors at the moment, said Li Ziwei, manager of the Strategic Development Department of the FTZUDC.
"Therefore, Yangshan is trying to attract foreign investors by lifting the operating environment and improving support services," Weng added.
The ongoing improvement works include setting up a complete set of financial institutions, building beneficial apartments and improving infrastructure facilities to provide a favorable living and working environment for those potential enterprises, Weng said.
Meanwhile, the most commonly reported problem from existing enterprises in the YFTPA is the current high operating costs. They typically exceed one third of the costs of the Waigaoqiao Free Trade Zone, which is also a member of Shanghai FTZ.
"YFTPA is located in Nanhui new city, about 55 kilometers from Shanghai's downtown, which notably increases the transport costs," Weng said.
The management team of YFTPA has taken a series of measures to overcome the current issue.
"On the one hand, the administration is accelerating the process for establishing a management system to form a self-improvement mechanism in transportation services and enhance the communication between Yangshan Customs and logistics enterprises, to speed up the customs clearance efficiency and lower the logistics costs.
"On the other hand, it is making great efforts to promote its soft investment environment and establish educational and cultural institutions in order to encourage more skilled employees to stay," Weng added.