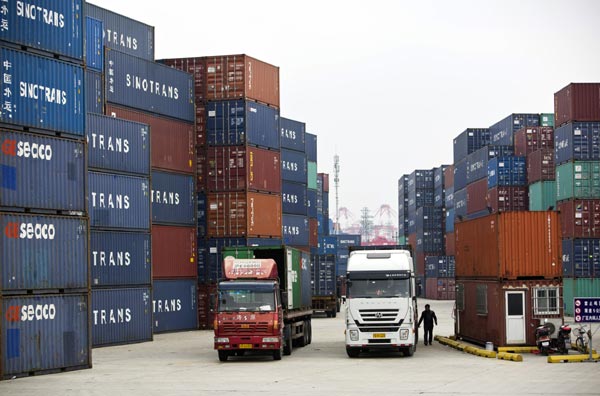 Trucks loaded with containers at the China (Shanghai) Pilot Free Trade Zone. Reuters
Concerted efforts from all stakeholders are vital for continued success of financial experiment
President Xi Jinping, in a recent visit to Shanghai, again urged the city to push the envelope in exploring a transplantable path for financial reform through experiments in its pilot free trade zone and stressed risk
prevention as the "baseline" for reform.
This is the first time the State leader warned pathfinders not to make mistakes while blazing a trail.
Shanghai responded that it will submit about 30 transplantable reform policies to the central government this year after testing them for risks.
China's financial reform has rolled down a steep slope tilted by its fast growth, but now the road is littered with risks.
The maladies are obvious. The country has robust economic growth and a chaotic stock market plagued by scams and speculation. It has more money in circulation than the economy needs, while the real economy is starved for cash.
The country has the world's most profitable State-owned banks, which rely on loans to debt-ridden local governments, bubble-blowing real estate developers and underperforming State-owned enterprises.
The economy needs a new path. Growth will slow down for a while, but it will then speed up again at a sustainable pace. But it takes power and skill to make the detour stable and neat.
Compared with the ambitious officials in Shenzhen's special economic zone in the 1980s, the officials in Shanghai have not so far demonstrated a capacity for innovation.
The main tasks for Shanghai include a market-oriented interest rate, making the yuan convertible for capital account transactions, realizing a market-based exchange rate and building up an efficient administration system for a modern financial industry. None of this is easy.