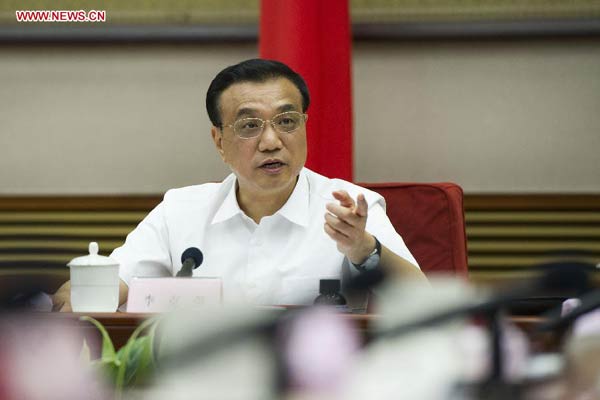 Chinese Premier Li Keqiang, also a member of the Standing Committee of the Political Bureau of the Communist Party of China (CPC) Central Committee, presides over a symposium about the country's current economic situation in Beijing, capital of China, July 15, 2014. [Photo/Xinhua]
China could realize GDP growth this year of 7.5 percent or even higher, Premier Li Keqiang said at a seminar with economists on Tuesday.
"As long as the growth generates jobs and income, as long as the growth has quality and efficiency, as long as the growth is energy-efficient and not inflated, whether the growth rate is higher or lower than 7.5 percent, we can accept it," Li Keqiang told economists on Tuesday.
Li's comments came after second quarter GDP growth beat expectations to hit 7.5 percent following weak first quarter data. Recent signs have suggested that the premier is increasingly serious about hitting the 7.5 percent target set earlier this year.
Chinese banks issued 1.08 trillion yuan ($173 billion) in new loans in June, 20 percent higher than market expectations. This, along with a 14.7 percent growth in the broad money supply, convinced many that growth will accelerate in the following months.
Li Daokui, director of the Center for China in the World Economy at Tsinghua University, who attended the meeting, expected GDP growth for this year to reach 7.6 percent.
Li said the premier's focus is to ensure that the economy grows at a steady, modestly fast pace for a long time, without a sudden surge or fall. He said another point the premier emphasized was that innovation should have two tracks: in technology and institutions.
Addressing concerns over whether Beijing has again opened the floodgates for credit, the professor said risks are "manageable", considering that most of the credit is going to long-term projects such as social housing. But he also acknowledged that the effect of credit pumping is fading, while new methods should be devised to spur growth.
"For example, I suggested at the meeting that we should invest more in urban rail and high-speed rail. These long-term projects could boost consumer demand," he said.
Li Keqiang also stressed at the meeting that there should not be aimless macroeconomic adjustments, an approach he described as "flood irrigation". Instead, adjustments should target key sectors, acting like "trickle irrigation".
Adjustment should be more market and reform oriented, the premier said.