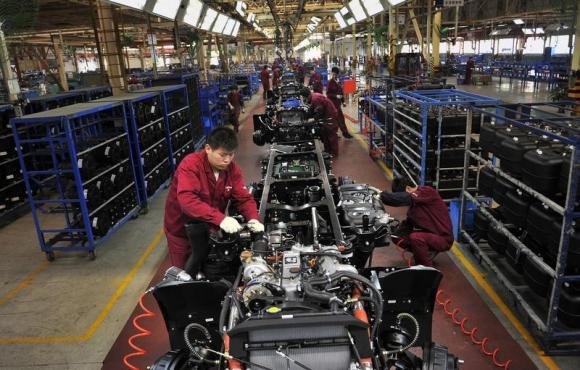 Workers install the chassis along a production line at a truck factory of Anhui Jianghuai Automobile Co Ltd (JAC Motors) in Hefei, Anhui province May 5, 2014. [Photo/Agencies]
Activity in China's vast factory sector likely expanded at the fastest pace in eight months in July, a Reuters poll showed on Wednesday, adding to evidence that the economy is regaining momentum after a burst of government stimulus measures.
China's official manufacturing purchasing managers' index (PMI) is expected to rise to 51.4 in July, up from June's 51, according to the median forecast of 24 economists in a poll.
A reading above 50 indicates an expansion in activity while one below that level points to a contraction.
The expected improvement in manufacturing is in line with signs of a pick-up in broader economic growth, which quickened to 7.5 percent in the second quarter from a 18-month low of 7.4 percent between January and March.
"With the effect of
mini
-stimulus measures gradually filtering through, the PMI data could pick up further in the coming months, supported by reviving domestic production and improving exports," said Wen Bin, economist at Minsheng Bank in
Beijing
.
A preliminary PMI survey released last week by HSBC and Markit showed that rising new orders have lifted the growth of factory sector activity to a 18-month high in July.
Some economists say the economic recovery still hinges on the magnitude of Beijing's pro-growth steps and whether the government can successfully curb the downside risks stemming from the cooling property sector.
The real estate industry is undergoing a downward correction after rising for nearly two years, with home prices, property sales and new construction all dipping, in what analysts describe as the biggest risk to the world's second-largest economy.
Local governments have recently scrambled to relax home purchase restrictions in hopes of reviving the struggling sector, which contributes a hefty amount of their revenues.
So far, at least 20 regional governments in small to mid-sized cities have openly or quietly lifted bans on the number of homes that people are allowed to buy.
China's top leadership pledged on Tuesday that it would focus more on targeted measures to help shore up the economy, while keeping macro economic policies stable and consistent.
"To maintain the growth momentum, the government may have to launch more mini-stimulus steps in the third quarter and the existing measures must also be intensified to guarantee a sustained effect," Wen said.
As one of the leading indicators that help gauge the economic momentum, the official PMI data is closely watched by the market and an improvement in the reading could bode well for other July indicators.
The official PMI figure will be released on Friday at 9 am Beijing time.