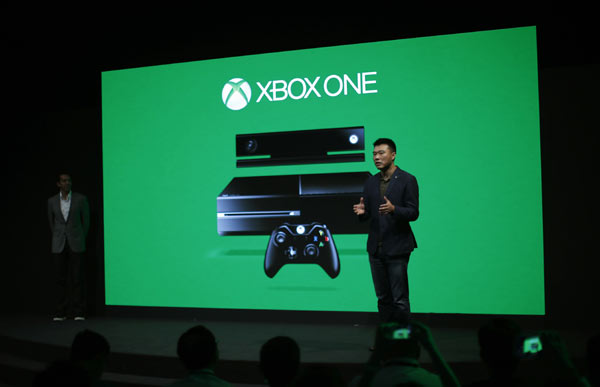 Xie Enwei, general manager of management and operations of Microsoft in China, speaks during the presentation of the Xbox One by Microsoft as part of ChinaJoy 2014 China Digital Entertainment Expo and Conference in Shanghai July 30, 2014. [Photo/Agencies]
Microsoft Corp and its Chinese partner BesTV said on Wednesday the Xbox One video game console will be released in China on Sept 23 at a price of 4,299 yuan ($700) with the kinect motion sensor and 3,699 yuan without.
In a press briefing in Shanghai, Yusef Medhi, Yusef Mehdi, Microsoft vice president of marketing, devices and studios, took to the stage to talk up the console. At one point, Medhi was joined by Enwei Xie, general manager of Xbox China and BesTV's Zhang Dazhong.
"We are happy to announce today that the Xbox One gaming console has been approved by the government," Zhang said, displaying a document with an impressive stamp.
Talking about the Xbox, Microsoft chose to show off its games. Launching with the Xbox One in China will be games such as Titanfall and NBA 2k14.
Microsoft reminded the attendees that this will be the first video gaming console to be released in China since a ban was imposed 14 years ago. Along with many Western game development houses such as Ubisoft and 2k Games, Chinese gaming companies will be in the forefront.
Domestic companies such as Beijing Perfect World Network Technology Co Ltd have signed deals with Microsoft to offer Chinese-geared content solely for the Xbox One in China. Perfect World CEO Robert Hong Xiao showed off NeverWinter to members of the media. The game will launch with the Xbox One come September.
Microsoft also announced the launch of ID@Xbox, a development-specific platform for independent game creators. BesTV also announced the establishment and funding of two development bases in Shanghai and Beijing to spur domestic game development.
Through its joint venture partner BesTV, a subsidiary of Shanghai Media Group Inc, Microsoft announced last year that it planned to release the Xbox One in China, taking advantage of the new regulations associated with the China (Shanghai) Pilot Free Trade Zone.