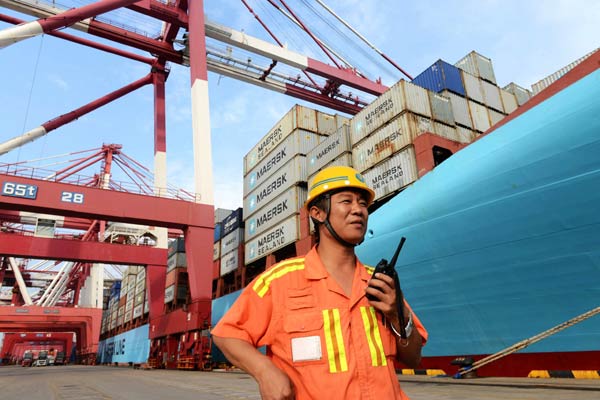 A worker directs container loading operations at the Qingdao Port in Shandong province. Fraudulent trade activities, which once involved the port, have seriously distorted foreign trade data, said the national foreign exchange regulator on Thursday. YU FANGPING/CHINA DAILY
SAFE calls for greater vigilance after uncovering fraudulent deals worth $10 billion
China is stepping up its crackdown on fraudulent trading activities that circumvent capital controls and create channels for hot money inflows and illegal cross-border capital flows, top regulatory officials said on Thursday.
The foreign exchange regulator has so far unearthed fraudulent trade transactions worth $10 billion since it started the investigations in April, the officials said. Some of the cases involved imports and exports at the Qingdao Port, which is already at the center of a commodity financing scandal and under investigation by the authorities, said Wu Ruilin, deputy director of the inspection department at the State Administration of Foreign Exchange.
"We have found that a large number of companies have faked, forged and illegally re-used trade documents for speculative purposes," Wu said at a news conference in Beijing.
"Fake trades not only increase the pressure of hot money inflows but also provide illegal channels for cross-border capital flows," he said, adding that the illegal activities have seriously disrupted trade data and the overall judgment of the country's economy.
Meanwhile, banks have failed to fulfill the responsibility of verifying the authenticity of the deals, which helped increase the fraudulent activities, Wu said.
The regulator has uncovered 967 illegal foreign exchange transactions from January to August and levied administrative fines of 180 million yuan ($29.3 million), according to the SAFE. The regulator has expanded its investigation to 24 provinces and cities of the country this year.
Experts said that the increase in fraudulent transactions would prompt the government to push through capital account reforms.
Zhao Xijun, deputy dean of the School of Finance and Economics at Renmin University of China in Beijing, said: "On the one hand, companies that break the existing rules should be punished accordingly. But the rise of illegal activities in the foreign exchange market also suggests the necessity for an early capital account reforms."
While noting that $10 billion fake trade level is relatively small compared with the country's nearly $4 trillion foreign trade volume last year, Zhao said that China needs to continue to liberalize its capital market with better and more effective regulation and inspection, something that could be challenging for the regulators.
SAFE's ongoing investigations are expected to cool hot money inflows, while commodity imports could slow as banks will conduct more careful checks on documentation, Zhou Hao, a Shanghai-based economist at Australia & New Zealand Banking Group Ltd, was quoted by Bloomberg as saying.
Meanwhile, the SAFE has been cooperating with customs and the police department to crack down on the illegal capital chain of smuggling activities, underground banks and foreign exchange fraud. A total of 2.8 billion yuan was involved in the cases uncovered by the regulator as of August, said Wu from the SAFE.