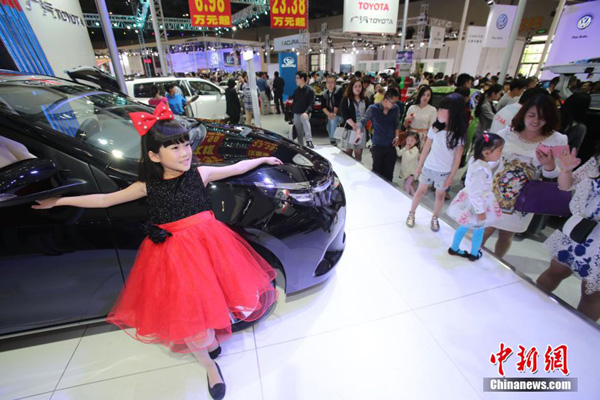 A child model is pictured at Taiyuan International Auto Show in Taiyuan city, North China's Shanxi province, on May 17, 2014. [Photo/Chinanews.com]
China's auto sales rose 10 percent in January, led by demand for sport utility vehicles and minivans as consumers continued to favor more spacious rides over conventional sedans.
Retail deliveries of passenger vehicles climbed to 2.07 million units in January, the China Passenger Car Association said on Tuesday. SUV sales surged 62 percent, while minivans advanced 22 percent, outpacing demand for sedans, which was little changed, the data show.
Vehicle sales in China are forecast to expand 7 percent this year, half the pace achieved in 2013, as the economy cools in the world's largest car market. Total deliveries may exceed 25.1 million vehicles, from 23.5 million last year, the China Association of Automobile Manufacturers said last month.
China's gross domestic product is forecast to expand 7 percent this year, slowing from 7.4 percent in 2014, as President Xi Jinping seeks a "new normal" after three decades of breakneck growth.
Local authorities in China have stepped up restrictions to limit deliveries of vehicles as a growing number of cities join the fight to control smog and traffic congestion across the world's most populous country. Shenzhen's decision to cap the number of new vehicle registrations a year has spurred concern that several smaller cities may follow suit.
"Nanjing, Suzhou in Jiangsu province and Wuhan in Hubei province were cited as examples in our conversations where similar restrictions had been rumored," Max Warburton, an analyst at Sanford C Bernstein Ltd, wrote in a note to clients last week. Shenzhen's decision "was said to have helped drive volumes, apparently pulling forward demand".
General Motors Co said its sales in China fell 2.4 percent last month, while Toyota Motor Corp boosted deliveries in the country by 11 percent.