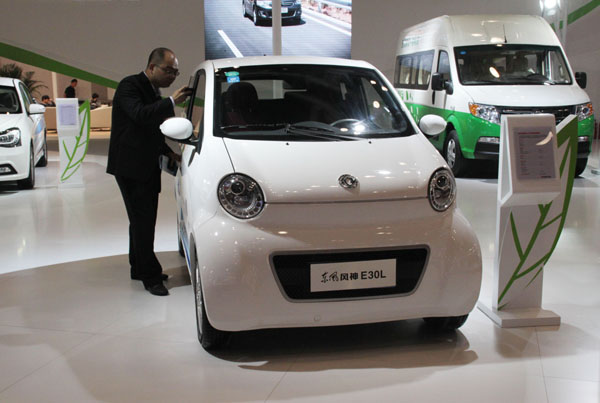 A potential buyer examines a new-energy vehicle at an auto show in Beijing last year. China produced 83,900 units of new-energy vehicles in 2014. [Photo provided to China Daily]
Favorable policies and rising public acceptance gave a lift to alternative-fuel vehicle production last month, with output up fivefold year-on-year to 6,599 vehicles, the Ministry of Industry and Information Technology said on Wednesday.
Falling gasoline and diesel prices - the result of a weak global crude oil market - may make these vehicles a harder sell in 2015 worldwide. But experts are optimistic about sales in China.
China produced 83,900 new-energy vehicles in 2014, with more than 300 new models launched.
Kang Liping, clean transportation project manager at the Innovation Center for Energy and Transportation, a non-profit organization, said favorable government measures drove last year's rapid growth.
In September, China said that it would waive purchase taxes on electric cars through December 2017. The government also offered hybrid and electric car buyers a subsidy of 35,000 yuan ($5,602) to 60,000 yuan per vehicle.
One barrier to wider adoption of alternative-fuel vehicles has been a lack of charging facilities.
But construction of charging stations also advanced fast in 2014, and as of Dec 31 there were 723 charging stations and 28,000 charging piles nationwide, according to the Ministry of Industry and Information Technology's website.
The Beijing Municipal Science and Technology Commission said it is working with Baidu Inc to make sure charging facilities show up on Baidu's online maps.
Ouyang Minggao, a professor at Tsinghua University, told a recent conference that he estimated China's pure electric car sales could surpass the United States' and become the world's biggest in 2015. Sales in the US are likely to be dragged down by slumping gasoline prices, he said.
Retail fuel prices will also affect domestic sales, but the continuous rise in consumption taxes on fuel has partly offset that, he said.