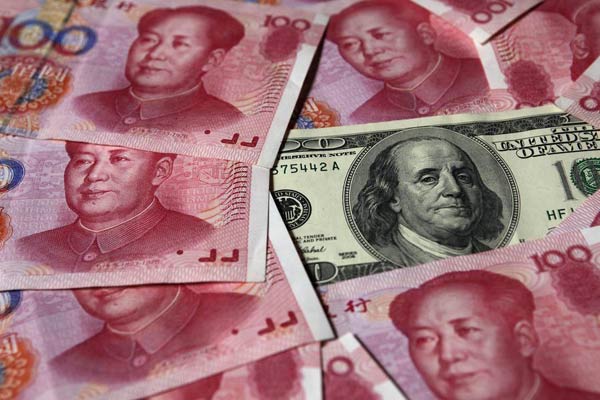 A $100 banknote is placed next to 100 yuan banknotes in this October 16, 2010 file picture illustration taken in Beijing. [Photo/Agencies]
BEIJING - China's onshore and offshore yuan bond markets will expand and diversify in 2015, as the Chinese currency gains more global clout, Moody's Investors Service forecast on Thursday.
"The evolution of the yuan into an international reserve currency is driving volume growth and diversification in the offshore yuan bond market," said Ivan Chung, a Moody's senior vice president.
"We expect offshore yuan bond issuance to grow even as the US dollar strengthens and China's onshore interest rate falls," Chung added.
China's central bank cut benchmark interest rates for the first time in more than two years in November 2014.
In the offshore market, more regional State-owned enterprises and Chinese non-bank financial institutions are expected to make their debut as they expand funding channels, Moody's said.
In China's onshore yuan market, the company identified regional and local government bonds and asset-backed securities as strong growth drivers.
Moody's also predicted that asset-backed securities (ABS) market to continue its fast growth in China this year. In particular, it expected to see more auto ABS transactions to satisfy the needs of lenders in the car market.