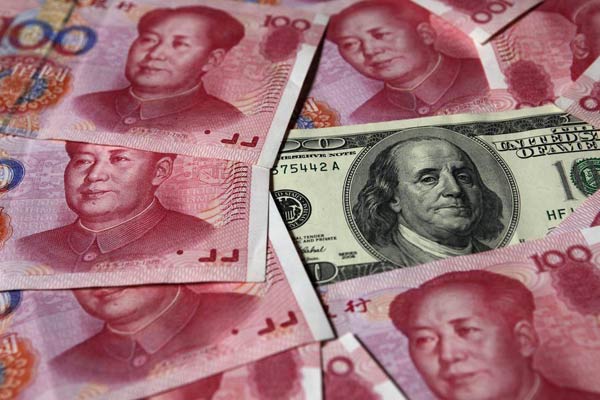 A $100 banknote is placed next to 100 yuan banknotes in this October 16, 2010 file picture illustration taken in Beijing. [Photo/Agencies]
BEIJING - The Chinese yuan has overtaken the Canadian and Australian dollars since November 2014 to enter the top five world payments currencies, said SWIFT in a recent report.
The yuan, or renminbi, now trails only the Japanese Yen, British pound, Euro and US dollar as a global payments currency.
"The renminbi breaking into the top five world payments currencies is an important milestone," said Wim Raymaekers, head of Banking Markets at Belgium-based SWIFT (Society for Worldwide Interbank Financial Telecommunication).
"It is a great testimony to the internationalization of the renminbi and confirms its transition from an 'emerging' to a 'business as usual' payment currency," he said.
SWIFT data showed that the renminbi reached a record high share of 2.17 percent in global payments by value in December 2014 and now trails the Japanese Yen, which has a share of 2.69 percent.
Over the last year, renminbi payments grew in value by 102 percent compared to overall yearly growth for all currencies of 4.4 percent, according to SWIFT.
China is moving steadily along the path of renminbi internationalization, following a strategy described as "crossing the river by feeling the stones." So far 12 cities, including Hong Kong, London, Paris and Sydney, have officially announced the establishment of offshore renminbi centers.