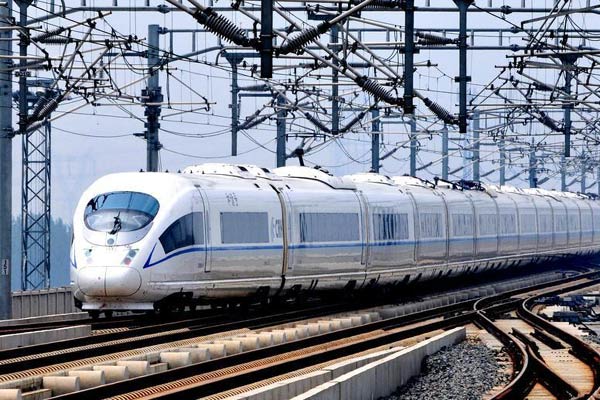 A CRH train that runs on the Beijing-Shanghai High-Speed Railway leaves Tianjin South Railway Station in North China's Tianjin, June 30, 2012. [Photo/Xinhua]
China's railway locomotive exports accounted for 10 percent of global market share in 2014, said Wang Xiaotao, vice minister of the National Development and Reform Commission, on Friday.
Total exports of  locomotive hit $4 billion in 2014 and major markets include Asia, South Africa and Latin America, said Wang at a press conference.
"There is a global enthusiasm for infrastructure projects, particularly railway building, both in developed and developing countries, providing a good opportunity for China's railway firms to go global," added Wang.
He said Chinese manufactures have built up substantial capability in providing one-stop solution and have obvious cost advantage.
Costs of Chinese firms are at around "two thirds" of their global peers, said Wang.
Analysts said the combination of CSR Corp Ltd and CNR Corp Ltd will further strengthen competition of Chinese firms.
However, both companies have yet to win rolling stock contracts in the European market since the region has mature manufacturers and stringent requirements for market entry, according to a recent Moody's report.
Asian players such as Japan-based Hitachi Ltd's Hitachi Rail and South Korea-based Hyundai Motor Co's Hyundai Rotem have been able to gain a slice of the market, according to analysts.
Exports of China's equipment manufacturing industry stood at 2.1 trillion yuan in 2014, accounting for 17 percent of China's total exports in the same year, said Wang.
Equipment exports in industries such as electricity, telecommunications, petrochemical and aviation showed a momentum of rapid growth.
Realted story: China's railway equipment export surges, by Xinhua
BEIJING - China saw a surge in export of railway equipment as industry leaders actively explore overseas markets, official data showed Wednesday.
China exported 26.77 billion yuan ($4.36 billion) worth of railway equipment last year, surging 22.6 percent year on year, according to data from the General Administration of Customs (GAC).
In December alone, the export value came in at 2.81 billion yuan, a surge of 42.3 percent from the same period a year earlier.
GAC spokesman Zhang Guangzhi attributed the rapid growth to China's manufacturing competitiveness in the sector as well as domestic firms' efforts to tap the global market.