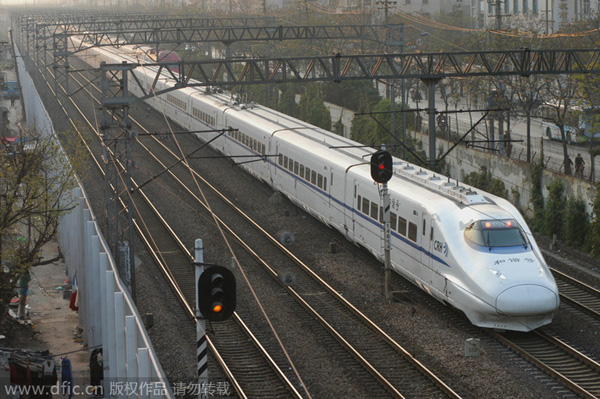 A CRH (China Railway High-speed) train runs on the rail in Shanghai, April 8, 2009. [Photo/IC]
New bidding result of Mexico's high-speed train project will be announced on July 31, after the Latin American country re-launched the bidding on Jan 14, Xinhua reported Saturday.
Five companies, including one from China, are bidding for the project in the new round, said Mexico's Ministry of Communications and Transportation on Friday.
Minister Gerardo Ruiz Esparza said that besides China, the other four are from Canada, France, Spain and Italy, but he declined to disclose detailed information about the bidders, according to Xinhua.
China Daily had earlier reported that French group Alstom and Canada's Bombardier are also reportedly planning to enter the new bid.
The Chinese bidder is a China-Mexico joint consortium, formed by China Railway Construction Corporation and several Mexican construction firms, Xinhua had earlier said.
The China-Mexico joint consortium won the $3.75 billion high-speed rail project last November, but Mexico abruptly cancelled the deal days later.
Related Story:
Rail consortium gears up for 2nd chance in Mexico by Zhong Nan
Analysts say that a Chinese-led consortium is still a strong contender to win a landmark contract to build Mexico's first high-speed railway, in a bidding process being rearranged for next year after the country decided to withdraw an earlier offer to the group.
Mexican President Enrique Pena Nieto canceled the original $3.7 billion concession granted to the consortium early last month, amid criticisms that it was the only bidder.
The consortium's bid team has since stayed in Mexico and both the Chinese companies involved and the government have demanded the Mexican authorities restart the bidding, hoping that the tender process can be properly settled this time, and as soon as possible.
Eager to secure the deal, Siemens AG of Germany, France's Alstom, Canada's Bombardier Transit Corp and Mitsubishi Corp of Japan have all now said they will participate in the rearranged tender, which is scheduled to be held in eight months, according to China CSR Corp, one of the country's largest train makers and a partner in the bidding consortium.