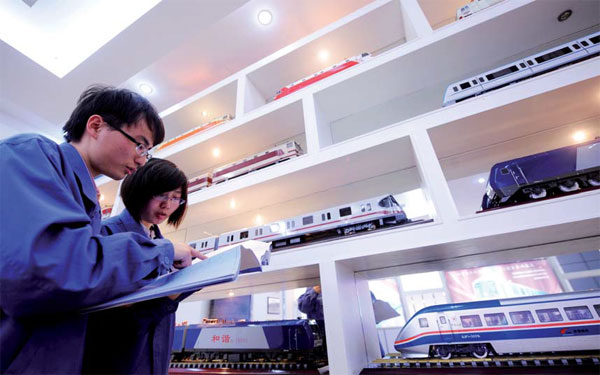 The exhibition hall for locomotive models at CSR Zhuzhou Electric Locomotive Co. [Photo/Xinhua]
BANGKOK -- Thailand has tentatively decided to begin building its first standard-gauge railways in cooperation with China in September, Transport Minister Prajin Juntong said on Thursday.
Two dual-track rail lines, with a total length of more than 800 km, will be built to connect northeast Thailand's Nong Khai province, Bangkok and eastern Rayong province.
The minister told Reuters that the project may cost 400 billion baht ($12.2 billion).
The entire project is divided into four sections, and work on the first two sections, which span 133 km and 246 km respectively, will start in September and conclude in December 2017, Prajin was quoted by Bangkok Post as saying.
The third and fourth sections, totaling 493 km, are expected to commence in December this year and ends in March 2018, he added.
Thai and Chinese officials will meet to talk about details of the plan and other issues, according to the minister.
The first round of meetings between the two sides will take place next week and center on plans to survey the route and related studies.
The second round, scheduled for early February, will focus on financial and investment issues, while the third in late February will discuss the partnership between Thai and Chinese companies, Prajin said.