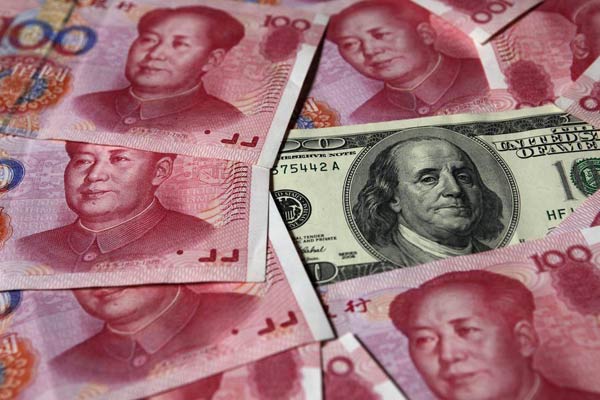 A $100 banknote is placed next to 100 yuan banknotes in this October 16, 2010 file picture illustration taken in Beijing. [Photo/Agencies]
China will relax restrictions on banks' yuan trading from next year, in a small but significant move toward relaxing its capital controls.
The changes will replace daily caps on banks' foreign exchange positions with weekly limits, and for the first time establish unified standards for total foreign exchange positions that banks can hold.
The State Administration of Foreign Exchange published a set of new rules on Tuesday to simplify 14 sets of related regulations and add new provisions liberalizing banks' forex trading practices.
"The timing is well chosen," said a senior dealer at a major European bank in Shanghai.
"With the dollar strengthening globally and emerging market currencies suffering from lingering weakness, it is a good time to relax restrictions."
The yuan has lost 1.3 percent so far this month and looks set to close the year down 2.8 percent in the face of bearish pressure, which is expected to last well into 2015.
Starting Thursday, the SAFE will check banks' position compliance status each week, according to the rules published on the regulator's website, www.safe.gov.cn, leaving them leeway to short dollars within that period, traders said.
However, the SAFE appeared to discourage this interpretation in its statement.
"While banks manage their positions on a weekly basis, their average daily positions should be kept within the limits defined by SAFE," the regulator said, in what traders said was an apparent signal that banks should not go too far.