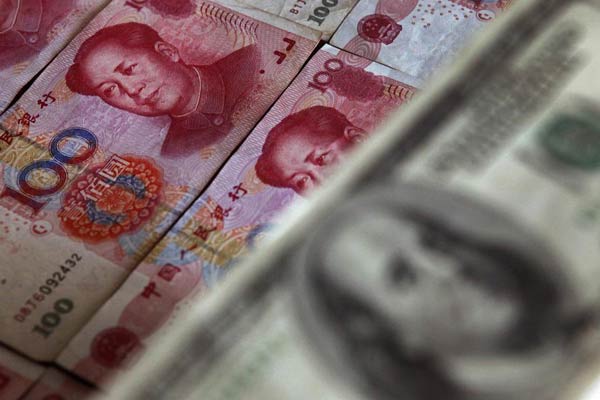 A photo illustration shows a $100 banknote placed above Chinese 100 yuan banknotes in Beijing in this May 10, 2013 file photo. [Photo/Agencies]
Since the central bank of China announced its most recent interest rate cut, the renminbi exchange rate has not depreciated as might have been expected. Statistics released by China Foreign Exchange Trade System (CFETS) show that on Nov 27, the yuan-dollar central parity rate was 6.1320, 34 basis points up compared with the previous trade day and a new high since Mar 13. Last week, the yuan-dollar spot rate saw one jump of 200 basis points.
As the newly released economic data were favorable to the dollar, on Dec 2 the dollar appreciated strongly and the yuan-dollar central parity rate dropped slightly. According to CFETS, on Dec 4 the yuan-dollar central parity rate was 6.1411, 35 basis points down compared with the previous trade day.
Sun Huayu, Deputy Director of thee International Business School of Jinan University, said that the recent appreciation of the renminbi has much to do with capital inflow. Firstly, international capital is optimistic about the Chinese market as the stock market is stable and the Shanghai-Hong Kong stock connect has opened; secondly, many domestic enterprises are seeking foreign finance through different channels.
Sun further observed that on the one hand, the growth in foreign trade was helping the renminbi to appreciate; on the other hand, the interest rate cut might lead to depreciation and a large scale capital outflow. Therefore, the central bank is likely to loosen up intervention in the market, so the renminbi can appreciate and less capital will flow out.
As the interest rate has been cut, if the economy continues to grow, the renminbi will not depreciate much and may even appreciate steadily. Any such trend will last till the end of this year or early next year as foreign trade is strong at the end of the year.
Economist Song Yu thinks that the trend of the renminbi exchange rate depends on two factors: economic development and investment in foreign countries. The market should play a decisive role.
"Generally speaking, the renminbi exchange rate is steady. If the dollar is strong, then yuan will depreciate next year," Sun said. As the central bank gradually loosens up its intervention in the exchange market, the yuan will experience more short-term fluctuations, neither consistently up or down, but in the long run, the renminbi exchange rate will remain stable.