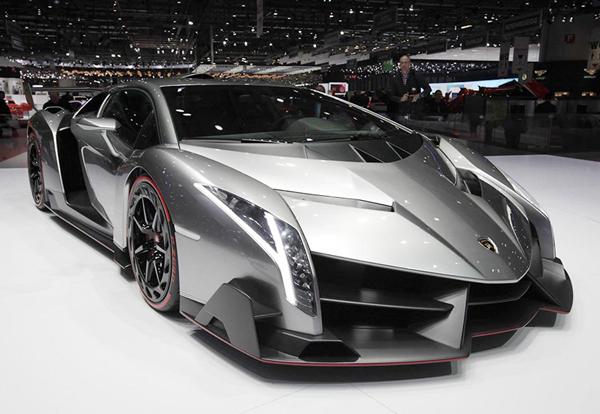 The Veneno car is pictured on the Lamborghini booth during the second media day of the 83rd Geneva Auto Show at the Palexpo Arena in Geneva March 6, 2013. The Veneno is said to be produced on order with a limited amount of three around the world. [Photo/Agencies]
China is taking aim again at foreign luxury car makers such as Audi, BMW and Mercedes-Benz by allowing unauthorised dealers to sell imported cars - so-called 'parallel imports' - in a move to rein in high-end car prices.
Publicly, Beijing says a pilot scheme, which officially kicks off in Shanghai's free trade zone next week, will promote competition and give consumers more choice, but people close to policymakers say it's the latest in a series of measures aimed at bringing down prices that are far higher in China than elsewhere.
For the luxury car marques, the move comes on top of weakening sales growth in the world's biggest market, tensions with dealers, and a recent price fixing probe.
A lawyer who attended a closed-door seminar last year said officials at the Ministry of Commerce and the National Development and Reform Commission, China's top economic planner, made clear their intention was to cut the price of high-end imported cars.
"Legalizing parallel imports is part of a broad anti-monopoly campaign by the government to improve market order and bring down prices of imported cars," he said, asking not to be identified as he is not authorised to speak to the media.
In an emailed proposal reviewed by Reuters, the China Automotive Technology and Research Center (CATARC), a government-affiliated think-tank, lobbied Beijing a year ago to legalize parallel imports "to break monopoly and promote competition."
Sales of premium cars rose by more than a fifth last year to around 1.6 million vehicles, according to consultancy Automotive Foresight (Shanghai) Co Ltd, but still account for less than 10 percent of China's total car sales. Together, Audi, BMW and Mercedes have around 70-80 percent market share in the premium segment.
More than 20 dealers have applied to join the pilot scheme, where imported luxury models will be sold at a 10-20 percent discount to those available through authorized channels, said an official at the Shanghai Waigaiqiao Automobile Exchange Market Co Ltd, the market organizer.