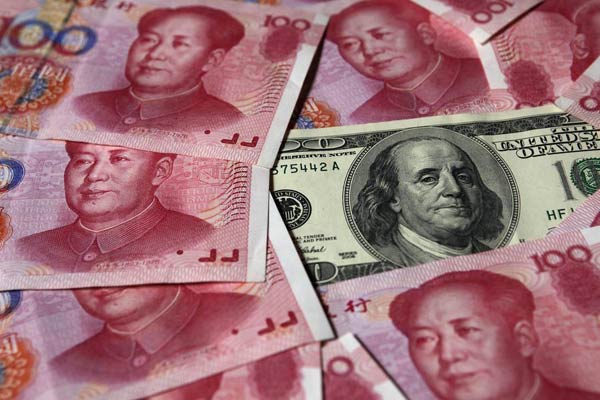 A $100 banknote is placed next to 100 yuan banknotes in this October 16, 2010 file picture illustration taken in Beijing. [Photo/Agencies]
BEIJING - China's central bank seems to have moved to stabilize the yuan despite mounting market sentiment that the currency has been toward the upper limit of its daily trading band for the past week.
The reference rate the People's Bank of China (PBoC) announces on the morning of each trading day to guide onshore trade of renminbi has risen 66 basis points since last Monday, while spot trading has been testing the limit to which the yuan is allowed to weaken daily.
Renminbi traded in the onshore market is allowed to rise and fall by 2 percent against the central parity rate each day. The spot trade's divergence from the official guidance suggests growing market pressure to see the yuan weaken to the greenback.
But economists have interpreted the reference rate's resilience as a move to prevent the yuan from a sharp decline that would exacerbate capital outflow and undercut financial stability.
The official gauge of China's manufacturing activity in January came in below the threshold separating expansion from contraction for the first time in more than two years, adding to concerns that the world's second-largest economy is losing momentum.
"The midpoint rate speaks very clearly to the central bank's stance -- a sharp fall in the yuan will not be tolerated," said Liu Dongliang, a Shanghai-based analyst with China Merchant Bank Co.
The US dollar has undergone a sustained rally since late last year as the market is watching closely over whether February is going to see raised interest rates after the exit from quantitative easing in November.
Though China has removed the yuan's peg against the dollar since 2005 to consider its movement against a basket of currencies, economists say the Chinese currency's exchange rate with the dollar will not fluctuate markedly.
But pressure for the yuan to weaken is mounting, as more central banks around the world kicked off their own monetary easing programs.
Yet the yuan's reference rate has hardly budged. "The central bank is using the reference rate to stabilize the yuan," said Xu Gao, chief economist of China Everbright Securities Co Ltd. "If such guidance is not in place, a sharply weakened yuan will accelerate capital outflow and complicate policy response."
"Some in the market have become too fixated over China's headline growth, and see a slowdown in growth rate as legitimate concern to justify the yuan's weakness," said Zhao Qingming, chief economist with the China Financial Futures Exchange.