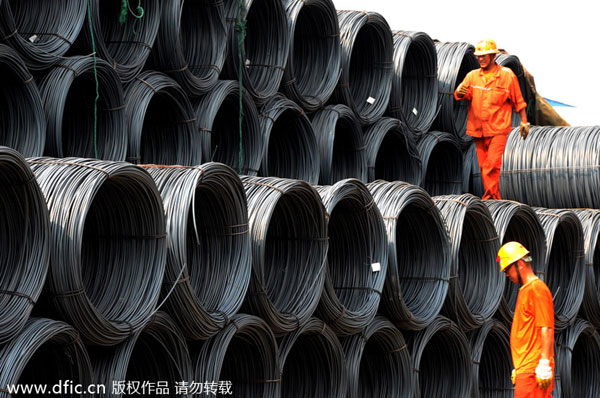 Chinese workers examine coiled steel rods to be shipped abroad at the Port of Lianyungang in Lianyungang, East China's Jiangsu province, Sept 20, 2013. [Photo/IC]
HANOI - China continued to be the largest steel supplier to Vietnam in 2014, accounting for 53.4 percent of Vietnam's total steel import volume, said Vietnam industry and trade information center (VITIC) under the Ministry of Industry and Trade on Wednesday.
Last year, Vietnam imported 6.3 million tons of steel worth $3.8 billion from China, up 81.1 percent in volume and 61.06 percent in value year-on-year.
In December 2014 alone, Vietnam imported some 990,500 tons of steel from China, accounting for 68.5 percent of the country's monthly import steel volume.
Vietnam mainly imported several types of steel including alloy steel and flat rolled steel from China in 2014.
Japan was the second largest steel supplier to Vietnam after China, making up 19.1 percent of total Vietnam's steel imports in 2014. Japan sold 2.2 million tons of steel worth $1.4 billion to Vietnam during the year, down 9.18 percent in volume and 10.68 percent in value year-on-year.
In 2014, Vietnam witnessed year-on-year increases of steel imports with 25.63 percent in volume and 16.76 percent in value, said VITIC on its website on Wednesday.
Vietstock, a local online newspaper quoted industry insiders as assessing that the country's steel sector faced challenges when Vietnam started to reduce import tax on steel from around ten percent to 0-5 percent from 2014 following its commitments to the World Trade Organization.
Vietnam's steel production is in small scale and low technology. Few firms have investment to refine and make steel products by themselves.
Meanwhile, Vietnam-made steel products, which are poor in category, mainly focuses on steel for construction, while they are unable to meet demand of steel plate, foil and strip, said industry insiders.
A local economist who requires anonymity told Xinhua that the country imports billet and processed steel. Billet will be made into finished products with Vietnam's advantages in production cost such as low electricity price and labor cost. The steel products will later be exported.