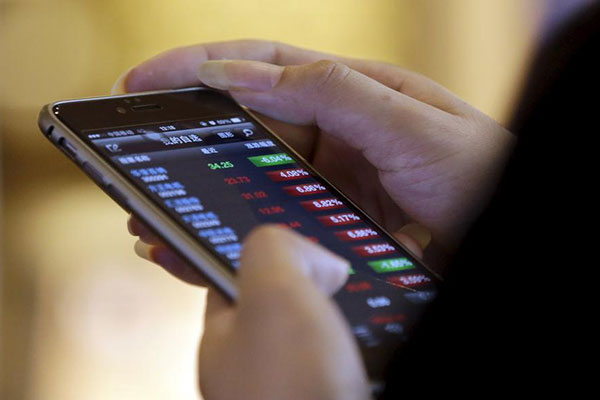 A man checks share prices on his mobile phone while waiting for his coffee at a Starbucks branch in Beijing July 16, 2015.[Photo/Agencies]
Investigations and crackdowns on insider trading and market manipulation are to be intensified by China's national prosecuting departments.
The move follows recent turmoil in the country's stock market and is aimed at maintaining order in financial markets, the Supreme People's Procuratorate said on Wednesday.
Xiao Wei, a spokeswoman for the SPP, said at a news briefing that national prosecutors arrested eight suspects involved in six cases of alleged leaking of listed companies' inside information between January and June. The number of such cases increased by 50 percent year-on-year, according to the procuratorate.
Cases involving manipulation of the securities and futures markets, as well as insider trading using private information have also risen sharply, but Xiao did not give any figures.
Nie Jianhua, deputy director of the SPP's Prosecuting Department, said police have combated such crimes and are conducting further investigations into other cases involving information leaks, speculative short-selling and spreading rumors that have jeopardized market order.
Short-selling involves dumping shares in anticipation of a fall in their price and buying them back to make a profit.
"We will examine the evidence promptly as cases are transferred to us when police complete their investigations," Nie said. "Once crimes have been identified, we will speed up arrests and prosecutions to ensure economic security."
The intensified government crackdown on financial crimes follows a police investigation into several senior executives at the country's largest securities brokerage, CITIC Securities Co, for alleged insider trading and information leaks.
Zhang Yujun, assistant chairman of the China Securities Regulatory Commission, is also under investigation for suspected "serious violation of discipline and law".
China has conducted a concerted campaign involving several government authorities to shore up the stock market, which suffered a dramatic summer fall after the benchmark Shanghai Composite Index peaked at 5,166.35 points in mid-June.
On Wednesday, the index fell by 2.19 percent, or 69.73 points, to close at 3,115.89.