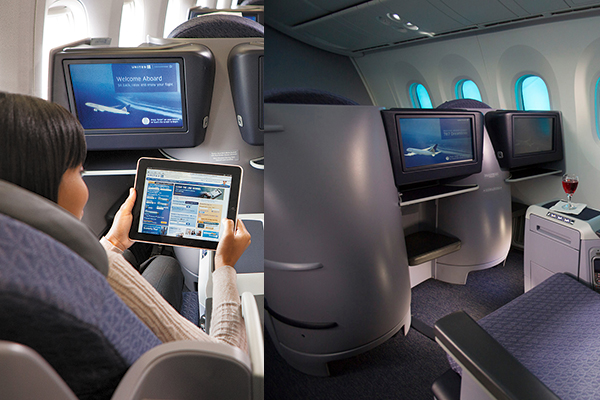 United Airlines' BusinessFirst offers a superior business-class service its passengers. The company's cutting-edge seat in the BusinessFirst reclines 180 degrees into a 1.98-m lie-flat bed and features a personal on-demand entertainment system with a state-of-the-art 39-cm touch-screen monitor. Other amenities include laptop power and a multi-course meal with complimentary wines. [Photo provided to China Daily]
Our focus in the short term is to increase awareness of United Airlines as the most flyer-friendly US airline for Chinese travelers by emphasizing our commitment to the market, our convenient flight schedule to the US and our Chinese-focused services both on the ground and in the air.
We will celebrate our 30th anniversary of China service in 2016. We are proud of our deep knowledge and understanding of the market, as well as our long-term relationships with our business partners and customers in China.
This foundation will definitely lead to opportunities for us for further network and capacity growth in China.
Chinese airlines expanded quickly in the Sino-US market in recent years. Do you feel pressure from Chinese carriers? What is the competitiveness of UA compared with Chinese airlines?
While the Chinese carriers have expanded rapidly in recent years, it's actually just compensating for their slower-paced growth in preceding years.
One of our biggest advantages over our competitors is our unmatched network of flights between China and the US and beyond.
For example, once our Chinese customers arrive at our hubs in Chicago, Los Angeles, Newark Liberty International Airport in Newark/New York, San Francisco and Washington/Dulles, they can connect to flights to more than 300 destinations throughout North, Central and South America and the Caribbean.
Airlines from the US have adopted multiple methods to cooperate with Chinese airlines recently. What do you think about the cooperation with Chinese carriers? Do you plan to deepen your cooperation in China?
United Airlines and Air China are both members of Star Alliance and have a long history of cooperation, providing benefits to both of our customer bases through more long-haul flight choices and convenient access to interior cities in both countries, feeding our respective hubs and further extending our flight networks.
In June this year, United Airlines and Air China announced plans to expand our code-sharing cooperation, covering an additional 22 routes in the China and US markets.
With this expansion, the airlines code-share on more than 100 routes offers customers the most comprehensive route network between the US and China.
United Airlines and Air China customers are able to earn and redeem miles on both airlines' flights through frequent flyer program cooperation. In addition, United Airlines and Air China elite customers are able to access the other carrier's airport lounges when traveling on international journeys.