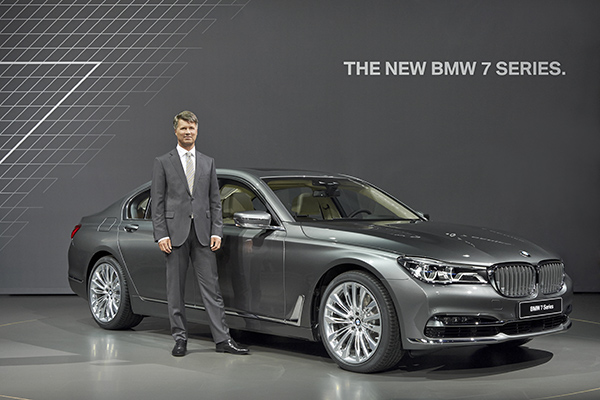 Harald Krueger, chairman of board of management of BMW AG with the new 7 Series at the recent International Motor Show in Frankfurt, Germany. [Photo provided to China Daily]
Star automaker introduces latest technologies to global drivers
German premium car group BMW showcased its top models, latest features and advanced technologies at the 2015 Frankfurt motor show, highlighting its BMW, Mini and Rolls-Royce brands.
BMW turned an entire exhibition hall into a gala in which the public could view the new models in action.
Harald Krueger, chairman of the Board of Management of BMW, said, "BMW's wide range of model lineups are featuring the vision of the auto manufacturing industry."
"With the three strong brands, the group continues to evolve more and more from a premium car company to a provider of premium mobility and premium services," Krueger said.
The automaker is expanding its offerings in new areas of business and creating an even more emotional experience for customers, as well as launching more than 30 new models since the 2014 IAA motor show.
Its sales growth was driven most strongly by the BMW brand's many recently introduced or refreshed models, according to the company's news release.
The BMW brand's global sales volume in the first eight months of 2015 climbed by 5.5 percent year-on-year to 1.2 million units, and sales in August rose by 7.6 percent with 135,735 vehicles delivered.
Sales on the Chinese mainland reached more than 300,000 in the first eight months, with deliveries up slightly by 0.9 percent year-on-year to 301,529 units.
The group believes electric drivetrains are a major part of its future-battery-powered in urban settings and fuel cells for long distances. Digitalization has long been an integral part of the company's business plan and will continue to revolutionize it, and the ConnectedDrive system will allow customers to enjoy the highest level of connectivity.
eDrive technology
BMW's EfficientDynamics system paves the way for electric driving pleasure in four plug-in hybrid models. The introduction of BMW's eDrive technology also opens up all-electric motoring with zero local emissions to new target groups.
The BMW eDrive technology that was initially developed for BMW i cars will be available for BMW models spanning four different vehicle segments in 2016.
The plug-in hybrid variant of the just new BMW 7 Series, the BMW 740e, has been unveiled. The BMW 330e with plug-in hybrid drive has also been added to the lineup for the new BMW 3 Series. It will also be possible to sample the pleasure of all-electric driving with zero local emissions in the BMW 2 Series Active Tourer in the future, with the BMW 225xe. The BMW X5 xDrive40e is also on display at the 2015 Frankfurt show.